Early Election Could Intensify Nigeria Power Struggle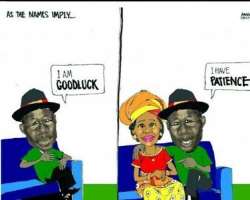 PHOTO: ACTING PRESIDENT, GOODLUCK JONATHAN COULD BECOME PDP'S PRESIDENTIAL CANDIDATE FOR THE 2011 POLLS. Image: NAN.
Nigerian elections could be held as early as November if reforms being reviewed by parliament are approved, limiting Acting President Goodluck Jonathan's time in charge and intensifying the struggle over who will succeed him.
Jonathan's assumption of executive powers last week ended immediate concern that President Umaru Yar'Adua's near three-month absence in a Saudi hospital would bring government to a halt and tip Nigeria into constitutional crisis.
But it did not resolve the broader issue of who will be leading Africa's most populous nation and its biggest energy producer after elections, which will determine whether economic and political reforms accelerate or stagnate.
Nigeria's political kingpins are jockeying for influence over who the country's next leader should be, leaving their minions -- including ministers and parliamentarians -- treading water until it becomes clear which way the pendulum will swing.
It is an uncertainty many of the country's most powerful people want resolved.
"The time is very short," said James Ibori, a member of the Elders' Committee of the ruling People's Democratic Party (PDP) who was instrumental in Yar'Adua's rise to power in 2007.
"We expect the National Assembly to pass the crucial aspects of the electoral reforms by April 2010. This will kick start the process of the party primaries leading to an early election hopefully by November," he told Reuters.
Parliament is considering electoral reform legislation but the key to the timing of the next polls -- presidential, parliamentary and state elections -- lies in an influential December 2008 report by former Chief Justice Muhammadu Uwais, some of whose elements could be made law.
His report suggested the elections should take place at least six months before the presidential term expires, allowing time to settle the sort of legal challenges that dogged the first half of Yar'Adua's term and undermined his authority.
Two committees -- one from each house of parliament -- will meet next week to hammer out consensus on reforming electoral laws and Uwais' recommendations will be on the table.
"We will try to take a look at the whole aspect of electoral laws so that disputes are resolved before winners are sworn in. These are the things we are turning around our minds," said Senate spokesman Ayogu Eze, who sits on one of the committees.
Maurice Iwu, head of the INEC electoral commission, said the commission would meet in mid-March and announce a timetable.
OPEN RACE
The race to succeed Yar'Adua appears wide open.
An unwritten agreement in the PDP that power rotates between Nigeria's regions suggests the next president should be a northerner. But should Jonathan, a southerner, perform well in coming months he could win support even from northern factions.
"Many names are being mentioned, ranging from septuagenarians to the younger generation, from business-as-usual politicians to reform-oriented technocrats," said Nasir El-Rufai, a northerner who was a senior member of former President Olusegun Obasanjo's administration.
One of a younger generation of politicians pushing for more rapid liberal reforms, El-Rufai was among the first public figures to openly suggest he could support a Jonathan candidacy.
"The argument of turn-by-turn or rotational presidency has come under attack vociferously by no other people than northerners themselves," he told Reuters.
"For me ... and many Nigerians of northern extraction, what is important is to have a president who will move our nation to its rightful place immaterial of where he comes from."
If the electoral reforms championed by Uwais are passed, the PDP primaries could be completed by as early as August.
The party has bought itself time by refusing to declare Yar'Adua incapacitated, a move which would mean Jonathan being sworn in and appointing a new deputy, likely to be a northerner who could become the de facto candidate for the elections.
But any shift in the balance of power is deeply sensitive in Nigeria, a country of 140 million split between the Muslim north and predominantly Christian south, scores of ethnic groups and myriad other factions seeking a share of state resources.
The principle of rotation has meant presidential aspirants play a long game, thinking not just of who will run for the immediate term but also building alliances to give them a better shot when power swings to their region further down the line.
Years of careful brinksmanship by some of the country's most powerful figures could be upset by a Jonathan candidacy.
"The primaries may be very divisive ... especially if the rotational agreement is jettisoned," Ibori said.
REUTERS.