COUP: Niger President, Cabinet Detained, Jonathan Condemns Coup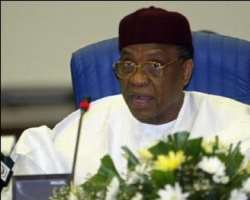 PHOTO: NIGER PRESIDENT MAMADOU TANJA. Image: AFP.
Breaking News: The Niger coup was successful. In a television broadcast, a spokesman for the plotters announced the suspension of the constitution. The country is now led by a group called the Supreme Council for the Restoration of Democracy (CSRD). The country's borders have also been closed.
San Francisco Feb 18, (THEWILL) - Niger's President Mamadou Tandja and members of his cabinet have been detained by coup plotters led by Major Adamou Harouna. They are being held not far from the presidential palace.
Multiple Nigerien military sources have confirmed that the coup was led by Major Adamou Harouna.
"The coup leader has succeeded. It is being led by Major Adamou Harouna," one source said. Government owned radio has been playing martial military music.
Nigerien President Mamadou Tanja has been locked in a battle with opposition after he extended his tenure, a move which earned Niger a suspension from ECOWAS.
Meanwhile, ECOWAS Chairman and Nigerian Acting President Dr. Goodluck Jonathan through his Senior Special Assistant on Media and Publicity, has condemned the coup in that country.
The statement reads:
"STATEMENT ON NIGER
"His Excellency, Dr. Goodluck Ebele Jonathan, GCON, Chairman of ECOWAS and Acting President of the Federal Republic of Nigeria has expressed deep concern about the reports of shooting around the Presidency in Niamey, Republic of Niger.
"The Chairman of ECOWAS, once again, condemns all acts of accession to power or remaining in power by unconstitutional means. He calls on all Nigerien stakeholders, including the Security Forces, to accept to resolve the constitutional crisis through dialogue and negotiations.
"The Chairman of ECOWAS has reiterated the call of the February 16, 2010 Summit of ECOWAS Head of State and Government to continue to facilitate the mediation effort of Nigeria in close collaboration with African Union. To that effect, the Chairman of ECOWAS is in consultation with the Chairman, AU Mediation Committee, President Abdoulaye Wade of Senegal, and General Abdusalami Abubakar, the ECOWAS mediator, with a view to the speedy resumption of the Inter-Nigerien Dialogue."
|
Article source