Emergency Rule: Jonathan Yet To Notify N'Assembly, Says House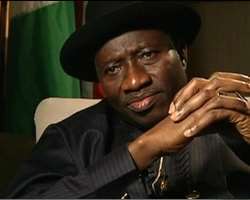 PRESIDENT GOODLUCK JONATHAN
ABUJA, May 16, (THEWILL) – The House of Representatives, Thursday, said President Goodluck Jonathan has not formally written to the National Assembly on his declaration of a state of emergency in Borno, Yobe and Adamawa States.
Deputy chairman of the House Committee on Media and Public Affairs, Hon. Victor Aham Oghene, who disclosed this while addressing the House Press Corps, however explained that the president had not breached the Constitution.
Section 305(1) states that "subject to the provisions of this Constitution, the President may by instrument published in the Official Gazette of the Government of the Federation issue a proclamation of a state of emergency in the Federation or any part thereof."
Section 2 states that "The President shall immediately after the publication, transmit copies of the official gazette of the Government of the Federation containing the proclamation including the details of the emergency to the President of the Senate and the Speaker of the House of Representatives, each of whom shall forthwith convene or arrange for a meeting of the House of which he is President or Speaker, as the case may be, to consider the situation and decide whether or not to pass a resolution approving the Proclamation."
Oghene however confirmed that "Up till now, the President has not sent a letter to us on the State of Emergency declared in three States."
The House spokesman also disclosed that before the action was taken, the leadership of National Assembly was duly consulted by the president, adding that it was the leadership that advised against dismantling democratic structures in the affected states.
"We are aware that the President, before the declaration, interfaced with the leadership of the National Assembly. And as the bastion of democracy, the National Assembly is desirous of sustaining the democratic ethos and that was why the leadership advised that democratic structures should remain.
"The leadership of the National Assembly did suggest that it will give a wrong message if the Governors (of Adamawa, Borno and Yobe) were to go. And we all agreed that the Government is one; while the N'Assembly is there to make laws, the Executive is there to implement them," Oghene said.
Justifying the delay, the lawmaker said "the issue really is whether it has been gazetted. It will be hasty at this point to say that Mr. President is in breach of the Constitution. I think they are still working out the process."
It will be recalled that hundreds of troops have already been deployed to the border areas of Borno and Yobe States preparatory to dislodging the insurgents involved in terrorists acts in the northern part of the country.