Police Pension Scam: Court To Rule On John Yusufu's Application To Quash Charge June 20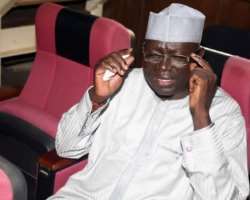 FORMER POLICE PENSION DIRECTOR, JOHN YAKUBU YUSUFU IN COURT
SAN FRANCISCO, May 16, (THEWILL) – Justice Adamu Bello of the Federal High Court Abuja will on June 20, 2013 rule on the application by John Yakubu Yusufu, a former director of the Police Pension Office, seeking to quash the 4-count charge preferred against him by the Economic and Financial Crimes Commission, EFCC, a statement by the commission said Thursday.
Yusufu is being prosecuted by the EFCC for allegedly concealing his interest in SY-A Global Company Limited and non declaration of a sum of 250 million deposited in a bank account which were not contained in his asset declaration form.
Yusufu is asking the court to throw out the charge on the ground that it is similar to the one in which he was tried and convicted by Justice Mohammed Talba of the FCT High Court on January 28, 2013.
At the resumed hearing Thursday, T. B. Maiyaki, counsel to the accused told the court that he had earlier filed an application supported by a 17 paragraph affidavit, asking that the charge against his client be quashed on the grounds that he had been tried and convicted on similar charge.
Prosecution counsel, Rotimi Jacobs, SAN, however urged the court to dismiss the application for lack of merit, that it was intended to mislead the court. He further argued that the present charge does not amount to double jeopardy.
"They are quite different… section 309 of the Penal Code borders on criminal misappropriation, while section 27(3) of the EFCC Establishment Act which the current charge is hinged, borders on failure to disclose asset".

It will be recalled that Yusufu was among six top officials of the Police Pension Office arraigned by the EFCC on March 29, 2012, on 16-count criminal charge bordering on conspiracy and criminal breach of trust. The other accused persons are Esai Dangabar, Atiku Abubakar Kigo, Ahmed Inuwa Wada, Mrs. Veronica Ulonma Onyegbula and Sani Habila Zira. They allegedly stole over N32.8billion from the police pension office.
On Monday, January 28, 2013, Justice Mohammed Talba convicted and sentenced Yusufu to 6 years imprisonment with the option of a fine of N750, 000, having pleaded guilty to three counts of an amended 20-count charge