Three Market Blasts Rock Baghdad Shi'ite Districts, Kill 14: Police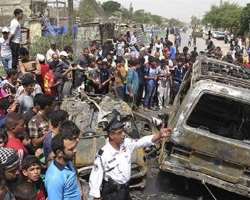 Three blasts hit markets in Shi'ite districts in the Iraqi capital Baghdad on Thursday, killing at least 14 people, police and medical officials said.
Two car bombs exploded in busy markets in Sadr City, north-eastern Baghdad and killed at least 11 people and wounded another 18. The third explosion targeted a small market in Kamaliya district, killing three more, police said.
"When the explosion happened, it was chaos, people were running everywhere to evacuate the victims. I saw two bakery laborers who were completely burned," said Hussein Mahdi, a store owner, who was at the scene of one blast.
No group immediately claimed the responsibility for Thursday's explosions but Sunni Muslim insurgents and al-Qaeda' s Iraqi wing have increased their attacks since the beginning of this year to trigger a wider sectarian confrontation.
Bomb attacks in Shi'ite areas of Baghdad and in northern Iraq killed more than 35 people on Wednesday.
Tensions between minority Sunni Muslims and the Shi'ites who now lead Iraq are at their highest since U.S. troops pulled out in 2011 and the country's government split among Shi'ite, Sunni and ethnic Kurds is caught up in a crisis over power sharing.
REUTERS