Senate Wants State Burial For Achebe, Asks FG To Immortalise Late Writer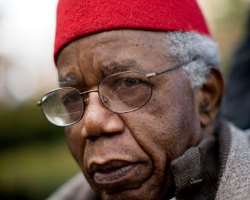 LATE PROFESSOR CHINUA ACHEBE
ABUJA, May 15, (THEWILL) – Senators have called on the Federal Government to give a state burial for the late Nigerian writer, Professor Chinua Achebe.
They have also called on the Federal Government to immortalise him by among other things naming a national monument, major highway or street in the country's capital, Abuja after the man they described as the "master storyteller",
Doing so, they unanimously agreed, would "promote and showcase excellence and his positive contributions to Nigeria and the world."
However, the senators rejected the prayer seeking to urge President Goodluck Jonathan to bestow, posthumously the national honour of Grand Commander of the Order of the Niger (GCON) on Achebe.
The prayer was struck out on the grounds that the late writer had rejected a national award when he was alive.
Senate Leader, Victor Ndoma-Egba SAN, is to lead a seven-man Senate delegation to commiserate with Achebe's family, people and government of Anambra State.
The resolutions were sequel to a motion sponsored by Senator Chris Ngige and 107 other Senators to immortalise Achebe.
Achebe died on March 21 in Boston Massachusetts, USA after a brief illness at the age of 82.
Senate President, David Mark, described Achebe as detribalised Nigerian and core nationalist.
"He was a role model for the youths and for the elders alike. He was a fearless, courageous and a very forthright Nigerian. He was a patriotic Nigerian who took Nigeria to the highest possible level. He lived well ahead of his time. He was as positively controversial as he was progressively controversial. His body is dead but his work will live forever.
"His use of simple language to express those complex situations very vividly has never and can never be matched by any writer in this country. He was a detribalized Nigerian, a nationalist to the core and a nationalist to the best. He was a gallant and sincere Nigerian and the most befitting fare-well, tribute or burial that can be given to him is to ensure that things do no longer fall apart in this country and that he is at ease where he is. And he will remain at ease for ever," Mark said.