WE WILL CONTINUE TO SUPPORT SECURITY OF THE STATE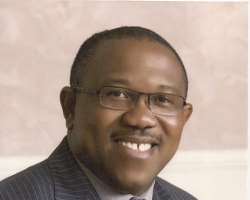 Gov. Obi said that the government of Anambra State would continue to support all the recognized security agencies working in the State for the ultimate good of the State. He said this yesterday during the routine visit to some security formations in the State, namely, the office of the Special Anti-Robbery Squad (SARS) and the State Police Command at Amawbia.
Gov. Obi who acknowledged that Anambra State, as is the case in all part of the world, is susceptible to crime because it is among the front line commercial States in the country, noted with happiness that the State is relatively peace and secured because of the diligence of security agencies working in the State and the support from the State Government. "Beofre I became Governor, the State had no relationship with the police, today the contrary is the case. Our relationship with security agencies is cordial and as a matter of fact we have continued to support them in all ramifications. For instance, my Government has bought over 300 security vehicles to security agencies in the State, communication and Amoured Personnel Carriers (APC), among others. We have also continued to give them logistics support," Obi said.
While being conducted round SARS office at Awkuzu by the State Commissioner for Police, Bala Nasarrawa, Obi promised to look into their requests of accommodation, servicing of vehicles, including Amoured Personnel Carriers, procurement of tracking equipment and bullet Proof vests, renovation of their complex, provision of water, paying compensation to informants, among others.
At the Police headquarters, where Obi handed over the cheque of 10 Million for the construction of fence, he promised to look into their other demands for them to continue to serve the people of the State better.
As part of measures to strengthen security in the State, Obi said that Governemnt would soon provided security patrol vehicles to all the towns in the State. "Just this morning, I discussed with my Adviser on Security on the need to commence our promise of paying 20 vigilante members in each town in the State.