President Jonathan To Address Nigerians Tonight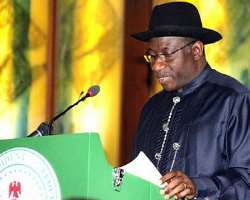 PRESIDENT GOODLUCK JONATHAN
… Worsening Security Condition Likely To Be On The Plate

SAN FRANCISCO, May 14, (THEWILL) - President Goodluck Jonathan will address the nation at 1900 Hours tonight on the network services of the Nigerian Television Authority (NTA), the Federal Radio Corporation of Nigeria (FRCN) and Voice of Nigeria (VON), an emailed statement from the President's Special Adviser on Media and Publicity announced a few minutes ago.

The statement said, "All other television and radio stations in the country may hook up to NTA and FRCN to relay the President's address for the benefit of their viewers and listeners."

Though the statement was silent on the subject of the President's address, THEWILL expects Jonathan to speak on the senseless killing of individuals and security agencies by mercenaries and fundamentalists in several parts of Northern Nigeria as well as measures to halt the worsening security situation nationwide.

Recall that since the President cut short his official trip to Southern Africa citing security issues back home, he has met at least twice behind closed-doors with service chiefs on the worsening security condition.

At least 150 persons have been killed in various incidents in Nasarawa, Benue, and Kaduna state since his return about 4 days ago.