Blackberry Unveils New Mid-Tier Smartphone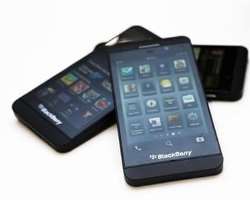 BlackBerry unveiled on Tuesday a new mid-tier smartphone device with a physical keyboard, the feature that still sets it apart from most rivals, and said its new devices had put the company back on "solid ground."
The Canadian company, which hopes new smartphones powered by its BlackBerry 10 operating system will reverse its fading fortunes, said the new Q5 mid-tier device will be available in the summer in several colors, including pink, red and white.
BlackBerry, renamed from Research In Motion, had been the market leader but over the past few years has bled market share to Apple Inc's iPhone and Samsung Electronics Co's popular line of Galaxy devices powered by Google's Android operating system.
Speaking at the BlackBerry Live conference in Orlando, Florida, company Chief Executive Thorsten Heins said the two new BB10 devices that BlackBerry has already started selling have given it its most successful launch year.
He said the company will launch the Q10, a high-end device with a physical qwerty keyboard, in the United States early next month. The Q10 is already available in several countries, including Canada.
BlackBerry shares dropped more than 1.5 percent in New York and Toronto soon after the market opened on Tuesday, and the company still has its work cut out to persuade its many detractors that its turnaround plan is succeeding.
"We have seen little from BlackBerry to inspire confidence in a turnaround in a hyper-competitive industry and formidable competitors including Samsung, Apple, Google, Microsoft, Huawei, amongst others, with significantly more resources," UBS analyst Amitabh Passi said in a note to clients on Monday.
But Passi, who has a "neutral" rating on BlackBerry stock, expects earnings estimates to move upward on BlackBerry in the short term, due to channel fill and some pent-up demand.
REUTERS