The African Union salutes the memory of the deputy commander of the African Force in Mali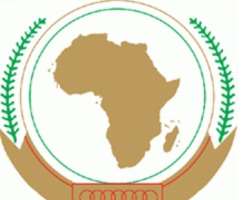 The African Union salutes the memory of the deputy commander of the African Force in Mali
ADDIS ABABA, Ethiopia, May 13, 2013/African Press Organization (APO)/ -- The Chairperson of the Commission of the African Union (AU), Dr. Nkosazana Dlamini-Zuma, has learned with great sadness about the sudden death of Brigadier Yaye Garba, Deputy Force Commander of the African-led International Support Mission in Mali (AFISMA), which occurred on Saturday, 11 May 2013, at his residence, in Bamako.
On behalf of the AU, the Chairperson of the Commission expresses her deepest sympathy and most sincere condolences to the family of the deceased, the people, the President of the Republic and the Government of Niger, as well as to her Special Representative, Head of AFISMA, and to all the mission's civilian and military personnel.
The Chairperson of the Commission salutes the memory of General Garba, whose professional and human qualities were recognized by all of his peers and the men and women who served under him. On this sad occasion, the Chairperson of the Commission also wishes to express her deep appreciation to the AFISMA troop-contributing countries, noting that their decision to deploy forces under challenging conditions and the sacrifices made by them are a testimony to the commitment of the continent to peace, security and stability in Mali. This commitment and sense of solidarity are a contribution to the promotion of Pan-Africanism and African Renaissance, particularly as the African people prepare to celebrate the fiftieth anniversary of the OAU/AU as part of their shared values.