Analysis: Malta Unlikely To Follow Cyprus Into Crisis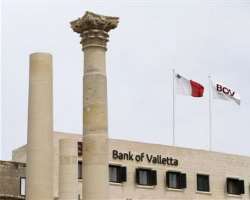 Cyprus and Malta have a lot in common: Mediterranean islands enjoying 10 months of sunshine a year, they joined the European Union in 2004, use the euro and have banking sectors that dwarf their economies.
There are so many similarities that some investors have wondered whether Malta might follow Cyprus in needing a bailout to survive the region's economic crisis.
But Malta's risk profile is far different to that of Cyprus, which received a 10-billion-euro aid package last month aimed at preventing its collapse and a possible exit from the euro zone.
On the basis of banking risk and its economy, it seems unlikely that it will be the next euro member - after Cyprus, Ireland, Greece, Portugal and Spain - to need rescuing.
"The business model of the financial sector in Malta is not as shady and controversial as it was in Cyprus," said Carsten Brzeski, economist with ING bank in Brussels. "The picture is also different at the macro level ... Malta should be off the screens for quite some time."
The European Commission expects growth on the small island economy of just 450,000 people to pick up this year and next, driven by rising domestic demand and increased net exports.
The unemployment rate, at 6.4 percent, is around half that of the euro zone, debt as a proportion of GDP is 72 percent, below the euro zone average, and the deficit is in check. All of Cyprus's pre-crisis numbers were far less rosy.
BANKS
Nevertheless, Malta's banking sector is eight times larger than its GDP, about the same as it was in Cyprus before the rescue. This leaves the economy exposed to financial shocks.
But in Cyprus the banking sector was dominated by two domestic banks, both of which relied heavily on foreign deposits, many from Russia, and invested those deposits in government bonds abroad, particularly in Greece.
In Malta, the bulk of banking-sector assets belong to subsidiaries of foreign banks which would be responsible for bailing them out in case of trouble.
The assets of domestic Maltese banks, which would not be allowed to fail because the economy would collapse, add up to around 200 percent of GDP. That is a large but not terrifying amount and the ratio in Cyprus's was twice as high.
Maltese domestic banks are highly capitalized, profitable and liquid. What is more, they fund themselves largely from the domestic retail deposit market, lend locally and hold securities issued in Malta, rather than having taken on board risky assets such as Greek government bonds.
"I want to be very clear, there is no banking sector in the European Union that is comparable to the Cypriot one. Malta, Ireland, Luxembourg, they are not comparable to Cyprus," European Central Bank Executive Board member Joerg Asmussen told a European Parliament committee last week.
"One has to look deeper at the structure of the assets and liabilities of the banking sector."
In a report last month, ratings agency Fitch said Malta would be far more capable of handling a crisis than Cyprus was.
"The contingent liability that potential bank support places on the Maltese sovereign - around 128 percent of GDP - is significantly lower than in Cyprus," Fitch said.
The IMF was equally reassured, saying in a report in May 2012: "The sensitivity of the Maltese banking sector to sovereign risk events in Europe is low given very low direct exposures to vulnerable countries, as well as domestic banks' reliance on a traditional retail deposit-based banking model."
FLIGHT RISK
Some analysts say Malta is vulnerable to a sudden dip in confidence that could prompt investors to withdraw deposits, something that the hit on Cypriot bank customers could easily have triggered.
"The key risk ... is that its international offshore investors begin to relocate in light of the policy uncertainty created by the Cypriot bail-in," Myles Bradshaw, a portfolio manager at PIMCO, said.
"This would have significant negative economic effects that could in turn create a problem with domestic banks' asset quality. Together with the deep recession, this could force Malta to seek external assistance."
In a recent assessment, the European Commission also expressed some macroeconomic concerns, noting Malta's relatively high level of private debt, notably home mortgages.
But it said that despite some overvaluation and possible oversupply, there was no immediate risk of a property market crash.
REUTERS