Bama: Residents Receive Relief Materials From NEMA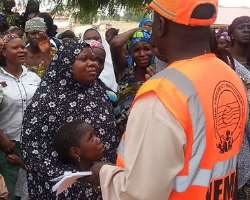 SAN FRANCISCO, May 12, (THEWILL) – Displaced residents of Bama, who are victims of Tuesday's attack on the town by Boko Haram, have started receiving relief materials from the National Emergency Management Agency (NEMA).
A NEMA delegation led by the Director of Administration, Dr. Zanna Muhammed, was in Bama at the weekend to deliver the relief materials to the victims.
The NEMA officials started distributing the materials in batches to the Nigerian Army barrack, the police and the prison authorities in the area for delivery to their men who were affected in the attack.
The Shehu of Bama, Alhaji Kyari Umar Ibn Elkanemi, was also given a batch of relief materials to be distributed among his subjects who were affected by the attack.
A statement by the Northeast Information Officer of the agency, AbdulKadir Ibrahim, said the displaced persons were being sheltered at the Mobile Police Base in the town..
Ibrahim said Mohammed who represented the Director General of the agency was accompanied to the town by NEMA officials from the North-East zonal office.
He said the team leader condoled the families of the slain security officials, and was at the palace of the Shehu of Bama where he condoled with Ibn Elkanemi on the attack .
Ibrahim said during the visit of the NEMA team to the 202 Tank Battalion Barracks of the Nigerian Army in Bama, the commanding officer, Lt. Col Adamu Laka, commended the NEMA team for its efforts in managing disasters and promised that the Nigerian Army will continue to collaborate with NEMA as a critical stakeholder to provide support to the Agency anytime the need arise.
The Area Commander of the Nigerian Police in Bama, Sagir Abubakar, while recieving the relief materials on behalf of the displaced police families, requested for more tents for the displaced, saying that very soon the rainy season will commence and may add to the vunerability of the affected families.
Ibrahim said NEMA has since mobilised mobilised more tents for onward delivery to the camp.