Atiku Deplores Lawlessness, Urges Support For Security Agents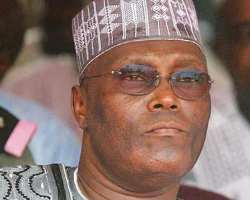 FORMER VICE PRESIDENT ATIKU ABUBAKAR
SAN FRANCISCO, March 11, (THEWILL) - Former Vice President Atiku Abubakar has condemned the deliberate targeting of security men by criminal groups and other gangs that appear bent on dragging Nigeria into a state of anarchy.

In a statement issued on his behalf by his media office in Abuja on Friday, the former Vice President said he was deeply devastated at the incident in Eggon, Nassarawa State, where scores of policemen and officers and SSS operatives were killed in cold blood by the Ombatse cult.

Describing the incident as the worst single attack on policemen and SSS officers in recent times, Atiku Abubakar said the savage attack also poses one of the greatest dangers to innocent citizens who are supposed to be protected by the police.

As trained security agents to stem or eliminate criminality in the society, the former Vice President said any threats to the lives of the police inevitably pose grave dangers to the lives of fellow Nigerians.

According to Atiku, the uncontrolled emergence of criminal gangs that threaten law and order is a threat that must be collectively confronted by Nigerians rather than abdicating the responsibility to the security agents alone.

He said human intelligence requires public cooperation in helping the security forces to identify, neutralize or destroy violent groups that have no regard for the sanctity of lives.
The former Vice President while noting that criminal groups are like cancer that grows slowly, suggested they should be exposed early enough by the communities where they operate.

Citizen participation, in the words of the former Vice President, "is essential to effective crime prevention," adding that security men cannot be everywhere at the same time.
At this period of widening dimension of criminality and lawlessness, the former Vice President said the police force needs every support to succeed, warning that "if the force is vulnerable, then, the entire country is at grave risk."