Stop insulting Dr Alex Ekwueme ----Monarchs tell Students over Oko Polytechnic Governing Council Boss
says Federal Polytechnic Oko is safe for academic activities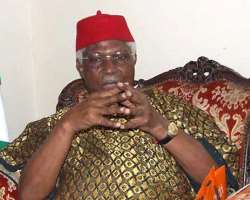 Former Vice President of Federal Republic of Nigeria and Founder of Federal Polytechnic Oko, Anambnra state, Dr Alex Ifeanyichukwu Ekwueme should be respected and regarded as founder of the institution on matters concerning the Polytechnic, so said the Old Aguata Union (OAU) led by His Royal Highness , Igwe Promise Eze , Abalikete of Umunze.

Old Aguata Union comprising of Community and Religious as well as Social and Political leaders in 45 communities in three local government areas hosting Federal Polytechnic Oko was reacting to newspaper publications against their son and re-appointed Chairman of Governing Council Federal Polytechnic Oko, Dr Anene Uzuakpunwa.

Their stand was made known in a press statement made available to newsmen shortly after its emergency meeting signed by General Chairman OAU, HRH Igwe Promise Eze Abalikete of Umunze AND His Hon (Dr) Isiocha-Okafor , Ezembanemetu , Ora Eri , Secretary General OAU.

''We wonder whether NANS has made any report to the former vice president to warrant an open insult to the person of Dr Ekwueme. How can they, when they are only poised to destroy the person of Dr Anene Uzuakpunwa , former chairman of the Governing council of the Institution.

''we believe strongly that the perpetrators of these development do not wish the Polytechnic good. It is trite to believe that these boys have no respect and regard for the founder of the institution His Excellency , Chief Dr Alex Ifeanyichukwu Ekwueme , (Ide Old Aguata), former Vice President of the Federal Republic of Nigeria .
''It is not an assumption to believe that His Excellency , Dr Ekwueme , has the capacity and capability to get to the Presidency and seek for the removal of Dr Uzuakpunwa from the Council if he is incapable of leadership of the Institution. OAU strongly advices any of our sons involved in this smear campaign to layback and think what damage such actions do to the Union . OAU strongly believes in Onye aghana nwanneya.

''It is only proper that Chief Dr Anene Uzuakpunwa be inaugurated to complete his tenure. The threat to make the institution ungovernable should be disregarded as tantrum of misguided youths as gold diggers. We want to assure all that the Federal Polytechnic at Oko is as safe as any other Federal Institution for academic businesses. We assure all and sundry that the boys will be on check to ensure peaceful times in the Institution.


OAU further stated in the press statement,'' our attention has been drawn to series of spurious publications in the Sun Newspapers of 28th April and 5th May, 2013 against our son, Dr Anene Uzuakpunwa , re-appointed Chairman of Governing Council , Federal Polytechnic Oko. These publications which alleged nothing were intended to pitch Dr Uzuakpunwa against the Federal Ministry of Education.
'' It is our information that in reality, these mischievous publications are aimed at impugning the Character disposition of Dr Anene Uzuakpunwa to make him unqualified and ineligible for reappointment to complete his tenure.
''There is no gainsaying the fact that Old Aguata Union (OAU), a cultural , non political and , non religious union of forty five (45) communities of the Old Aguata local government areas, as a father , is an interested part and , a serious stakeholder to protect establishments (Federal or state) located in 'OAU' areas of influence.
It would be recalled that the Federal Government announced the reconstitution of the governing councils of federal educational institutions last two weeks with Dr Anene Uzuakpunwa allegedly re-appointed as Governing Council Chairman of Federal Polytechnic Oko, but because of tension it was generating based on spurious publications in some National Dailies it was missing in the list released for inauguration by the Minister for Education Ruqayyah Ahmed Rufa'i.
The Nigerian representative of the Association of West African Students Union, AWASU, Comrade Sheriff Zadok along others was quoted as saying that there would be chaos if Uzuakpunwa is re-appointed, accusing him unfoundedly. They said the students were opposed to the appointment of Uzuakpunwa because of the likelihood of breakdown of law and order in the institution which has been denied by NANS Senate President Comrade Donald Onukaogu.
Meanwhile, Senate President , Comrade Donald Onukaogu and Communiqué drafting Committee Chairman, Comrade Chidi Obasi Michael who signed the communiqué after its emergency meeting absolved NANS of ever disrespecting or condemning the person of Dr Anene Uzuakpunwa , the re-appointed Governing Council Chairman of the Federal Polytechnic, Oko.
NANS added that it would cooperate with Dr Uzuakpunwa if inaugurated like other Governing councils again by Federal Government as Governing Council Chairman considering his wealth of experience as a former Rector of the same Institution.