Kabir Sokoto Loses Objection Bid As Court Admits Confessional Statement As Evidence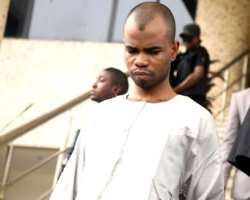 KABIRU UMAR, A.K.A KABIR SOKOTO
SAN FRANCISCO, May 10, (THEWILL) – The bid by Boko Haram prime suspect and alleged mastermind of the 2011 Christmas Day bombing of the St. Theresa Catholic Church, Madalla, Niger State, Kabiru Umar, a.k.a Kabir Sokoto, to disown a confessional statement allegedly made by him failed woefully on Friday .
This is as Justice Adeniyi Ademola of the Federal High Court, Abuja, in his ruling, admitted the statement, maintaining that the admissibility of the document was based on its relevance to the case.
Though Kabiru Sokoto had denied making the statement voluntarily, Justice Ademola ruled that ``The objection raised against the document is hereby struck out and the document is duly admitted to be used as evidence."
On Thursday, the judge had reserved ruling on the objection raised against the document to Friday.
Counsel to the accused, Mr. Adamu Ibrahim , had claimed that the statement was extracted from his client through ``torture, coercion, beating and intimidation''.
In a trial-within-trial to ascertain the veracity of the fact, the accused said ``throughout my stay in the police cell, I was not asked to write any statement, neither was any statement written with my consent to sign.''
But the two prosecution witnesses, who gave evidence against the accused, said the accused person was not coerced to give the statement.
They maintained that Umar had in the statement confessed to be privy to the bombing of the Catholic Church in Madalla.
They had further alleged that the statement was taken under the supervision of former CP Zakari Biu, CSP Pam Augustine, Insp. Anthony Larumo, Cpl Francis Ameh, now dismissed, and Cpl Adakole Samuel in an open space.
Justice Ademola therefore fixed May 13 for the continuation of the trial.