Wall Street Little Changed As Commodity Sector Weighs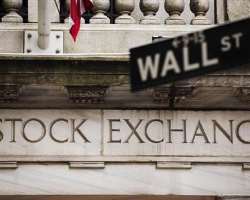 Stocks traded mostly flat on Friday as a sharp drop in commodity prices hit energy and materials shares, though the S&P 500 drew support from Priceline's earnings-related gain.
Oil and gold prices tumbled as the U.S. dollar hit a 4-1/2 year-high against the yen and the dollar index .DXY was on track to post its strongest week in 10 months, making commodities more expensive for holders of different currencies and weighing on shares in the energy and basic materials sectors.
The S&P energy index .SPNY dropped 1.1 percent as Brent and U.S. crude oil prices fell. The S&P materials index .SPLRCM slipped 0.5 percent.
Despite Friday's losses, lower oil prices could be another positive catalyst for stocks, according to Terry Morris, senior equity manager for National Penn Investors Trust Company in Reading, Pennsylvania.
"All things being equal, low energy prices are good for the consumer," he said.
Shares of Priceline (PCLN.O) jumped 3.7 percent to $764.90 and ranked as the S&P 500's top points gainer, a day after the online travel company reported a first-quarter profit that topped estimates. Improved hotel and car-rental reservations helped its bottom line, according to Priceline.
On Thursday, the S&P 500 ended lower, breaking a five-day streak of record closing highs. But investors expect shares to keep trending higher, given the Federal Reserve's accommodative monetary environment and encouraging data on the labor market, including Thursday's jobless claims numbers and last week's payrolls report.
The Dow Jones industrial average .DJI fell 9.75 points or 0.06 percent, to 15,072.87. The Standard & Poor's 500 .SPX gained 1.96 points or 0.12 percent, to 1,628.63. The Nasdaq Composite .IXIC added 18.56 points or 0.54 percent, to 3,427.73.
For the week, the Dow is up 0.7 percent, the S&P 500 is up 0.9 percent and the Nasdaq is up 1.5 percent. This is the third straight week of gains for all three indexes.
Shares of electric carmaker Tesla Motors (TSLA.O) jumped 11.7 percent to $77.52, adding to Thursday's gain of 24.4 percent and making it one of the top advancers on the Nasdaq Composite.
Tesla is part of a group of companies with heavy bets against them from investors. Recent upbeat results have triggered a wave of short covering.
In contrast, shares of Hess Corp (HES.N) slid 2.1 percent to $69.47. Its chief executive John Hess, son of the company's founder, is being stripped of his chairman duties as the oil and gas company scrambles to avoid an embarrassing defeat by an activist investor.
Rare earths producer Molycorp Inc (MCP.N) reported a first-quarter loss that widened from the previous year, though revenue rose sharply, driving its stock up 29.3 percent to $7.24.
Pain Therapeutics Inc (PTIE.O) shares plummeted 48.9 percent to $2.72 after the company said that Pfizer Inc (PFE.N), its marketing partner for painkiller Remoxy, has yet to decide on continuing to seek regulatory approval for the drug.
With 89 percent of the S&P 500 companies having reported earnings so far, 66.7 percent have topped profit expectations, above the average since 1994 of 63 percent. However, only 46.4 percent have beaten revenue expectations, well under the average since 2002 of 62 percent.
REUTERS