Yobe: 'PDP Won't Lose Sleep Over Defectors'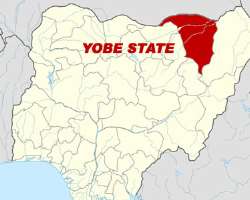 SAN FRANCISCO, May 09, (THEWILL) - The Yobe State chapter of the Peoples Democratic Party (PDP) declared on Thursday that it won't lose sleep over members of the party who recently defected to the All Nigeria People's Party (ANPP), saying it did not consider them as serious members in the first instance.
Maintaining that the defectors were planted in the party in 2007 to gradually weaken the party in the state,PDP said they were agents of the ANPP who have 'returned' home having completed their assignment.
About 1,000 members of the PDP, who left the ANPP in the peak of the disagreement between late Senators Mamman Ali and Usman Albishir, over governorship ticket, on Tuesday, returned to their old party amidst wide celebration in Damaturu,the state capital.
But a statement signed by the state Chairman of PDP, Alhaji Lawan Gana Karasuwa, said: "What happened in Yobe State recently did not come as a surprise to the Peoples Democratic Party (PDP) in the State. The so-called defection of top PDP Chieftains from the PDP to the ANPP in Yobe State is neither a threat nor a loss to the biggest party in Africa.
"In actual sense, the so-called 'defectors' were in the PDP momentarily as implants or agents of the ANPP and having completed their contract, they went back home. Nobody ever considered them as serious members of the PDP as they came with the aim of causing disunity while nursing some unreasonable expectations for self advancement."
Karasuwa, who claimed that the PDP in Yobe still remains intact, said there was no defection in the first place as the said people had only gone back home to their party as alluded to by both Governor Ibrahim Gaidam and Senator Bukar Abba Ibrahim.

The state PDP chairman noted that the governor at the reception of the returning ANPP members had said: "We do not consider that you left the party because your spirits and thoughts remains with us…..". And Senator Bukar Abba Ibrahim succinctly referred to them as "Those who left us have come back''.
Maintaining that the "PDP in the State is very intact and its adherents remain very loyal and committed to the part," Karasuwa said "As a matter of fact, the party is very proud of the abundant dividends of democracy so far reaped during the Jonathan administration."
He added: "The PDP is unwavering in its commitment and readiness to ensuring electoral victory in the State anytime any day by the Grace of God."