Trial Of Ibori's Associates Kicks Off In London Court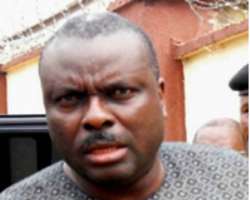 London Feb 17, (THEWILL) – The trial of associates of Chief James Ibori resumed on Wednesday after an appeal at the Royal Courts of Justice (UK Court of Appeal) failed on Tuesday.
Ibori's associates, Christine Ibie-Ibori, Bimpe Pogoson, Udoamaka Okoronkwo, Nkoyo Ibori and lawyer Bhadresh Gohil had appealed the ruling of Judge Christopher Hardy who ruled that irrespective of Ibori's acquittal by a Federal High Court in Asaba, Delta State, the Metropolitan police could go ahead with the prosecution of his associates for crimes bordering on money laundering.
At today's hearing, defense lawyer for Udoamaka moved to have Judge Hardy set aside the 2006 statements obtained from Udoamaka by the Economic and Financial Crimes Commission, EFCC, claiming they were obtained under duress but the prosecution countered the allegation insisting that the statements were obtained voluntarily from Udoamaka Okoronkwo adding that Mr. Yahaya Bello, the officer that obtained the statement was in court to prove their the claim. The defense asked the court for a week to produce a Nigerian lawyer who they said would prove that Udoamaka was interrogated under duress. The court granted their request and went on a break for 30 minutes.
When proceedings resumed, the court fixed the cross-examination of Yahaya Bello for Friday through next week Tuesday when hopefully the defence would have the Nigerian lawyer in court for cross-examination.
24 persons were called for jury duty but only 12 would be randomly selected according to the judge adding that he expects the trial to be concluded on or before April 23rd, 2010.
The matter continues tomorrow.
|
Article source