Adebayo Ogunlesi, The Man That Bought Britains Gatwick Airport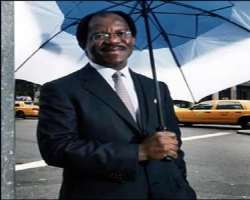 San Francisco Feb 17, (THEWILL) - A Nigerian Adebayo Ogunlesi, chairman and managing partner of Global Infrastructure Partners (GIP) bought UK's Gatwick Airport for £1.51 billion pounds from the British Airports Authority (BAA Airports Limited saying he intends "to make Gatwick a truly first class experience. The deal was sealed in the last quarter of last year at a "good price", Ogunlesi said.
The businessman put his personal fortunes of about $65 million dollars into the fund. However he cautioned it would take "somewhere between 12 and 18 months" before passengers started noticing a difference at the airport.
GIP was founded in 2006 with 96 pension funds, sovereign wealth funds, endowments and wealthy individuals from over 22 countries pledging $5.6 billion dollars. The fund, which invests in the energy, transport and waste sectors, has already spent over £1bn, encouraged by falling asset prices.
Ogunlesi, 56, a former Credit Swiss investment banker and his partners put in their funds to demonstrate to investors that they were aligned on the same goal.
GIP has assets in the United States and India but Ogunlesi says Britain is their favorite investment haven where they own Biffa, the refuse collection company. "We love UK", he said because of the stable regulatory and legal environment.
The sale of Gatwick to GIP is still subject European Union approval and should be completed soon. BBA says the airport posted a pre-tax loss of 780 million pounds in the first nine months of last year. The airport operator said it lost £225m on Gatwick after being forced to sell the airport by the Competition Commission.
The Nigerian, whose father was the first Nigerian-born medical professor, attended Kings College in Lagos before proceeding to Oxford University where he studied Philosophy, Politics and Economics. He also acquired degrees in Law and Business from Harvard University in Massachusetts, USA.
He had also lectured at Harvard and Yale University.
|
Article source