Bill To Establish Nigeria International Financial Centre Scales Second Reading In The Senate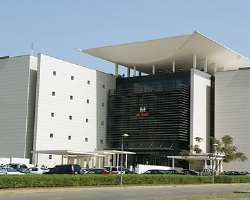 ABUJA, May 08, (THEWILL) - A Bill for an Act to establish the Nigeria International Financial Centre scaled the all-important second reading on the floor of the Senate on Wednesday.
The Bill seeks to provide for a financial-free zone offering a full range of financial and allied services.
The establishment of the financial centre will cost Nigeria N5.6 billion according to the financial compendium attached to the bill.
When passed into law, the Bill will create three separate bodies namely the Nigerian International Financial Centre Authority (Administrative body); the Nigeria International Financial Centre Regulatory Authority (NIFCRA) and the Nigeria International Financial Centre Judiciary Authority. The financial centre will be headed by a Director-General.
Leading debate on the Bill, its sponsor, Senator Victor Ndoma-Egba(PDP, Cross River), said the Bill will "plug" West Africa, especially Nigeria into the global financial system in furtherance of the region's economic growth and development.
The Bill was accordingly referred to the Senate Committee on Finance, Banking and Currency with a directive by the Senate President, David Mark, to report back to Senate at plenary in four weeks.
Ndoma-Egba said the International Financial Centre will attract funding and other resource requirements for tapping the sub-region's unexplored potentials, encourage and attract top rated International Financial Service firms to participate in West Africa's development
Despite the passage of the Bill, there were some voices of dissent. Senator Olusola Adeyeye (ACN, Osun) said establishing another agency amounted to repeating past mistakes in creating too many agencies, by implication adding to bureaucracy and wastage of government funds.
The Senate President David Mark said Nigeria needs a strong financial centre. He said the unconstitutional parts of the Bill will be sorted out at committee level to meet international best practices.
''The fact that previous agencies have failed does not mean this one will fail. It's not about success or failure now, but we should ask ourselves when agencies fail, we should hold the person responsible for the failure. We have to open up to the world, meet international standards provided we put the right people,'' he said.