N4.7bn Scam: Court Strikes Out Babalakin's Application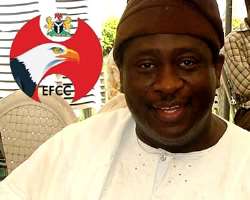 SAN FRANCISCO, May 07, (THEWILL) – A Lagos High Court sitting in Ikeja on Tuesday, struck out an application brought before it by counsel to Bi-Courtney Limited, O. Awonuga, alleging abuse of court process in a case involving Wale Babalakin and four others.
Babalakin was arraigned by the EFCC, alongside Alex Okoh and three companies: Stabilini Vision Limited, Bi-Courtney Limited and Renix Nigeria Limited on January 17, 2013, on a 27-count criminal charge that borders on conspiracy to commit felony, corruptly conferring benefit on account of public action and retention of proceeds of a criminal conduct to the tune of N4. 7 Billion.
Awonuga had on February 6, 2013, urged the court to strike out all the charges involving the defendants in the case because it lacked merit.
In his ruling, Justice Onigbanjo refused the application on the grounds that the applicant failed to establish any evidence of abuse of court process.
After the ruling, counsel to Wale Babalakin, N.O Fagbemi, SAN, informed the court that his client missed his flight and, could not come to court. He apologized on his behalf stating that the defendant had traveled to Abuja and "planned to return with the first flight this morning but he unfortunately missed his flight".
Counsel to EFCC, Rotimi Jacobs, SAN, however expressed dissatisfaction with the explanation given. He said if the defendant had missed the first flight, there are other airlines; or better still, he could have come with the same airline at a later time. He said if the first defendant took the court seriously, he would have looked for a way to be present in court.
Counsel to the 3rd and 4th defendants, Bolaji Kuti and O. Awonuga then informed the court about a fresh application they had prepared. Awonuga said his application was dated April 25, 2013 and was filed to quash the charges against his client. The Judge then asked him to proceed with the application but the process was eventually stalled.
Other counsel argued that they would need an adjournment for them to prepare their own applications since the subject of the fourth defendant's application was mutual. Jacobs, in his counter argument, however asked the court to reject the requests for adjournment by counsel.
He submitted that no substantial reason was given by the defense counsel to warrant an adjournment. He asked the court to compel Awonuga to move his application or risk being thrown out.
Awonuga and Kuti eventually withdrew the applications and the court obliged them.
The Judge subsequently adjourned the matter till June 5, 2013 for hearing on applications of the first and second defendants.