A'Ibom: Group Threatens To Drag Blackmailers To Court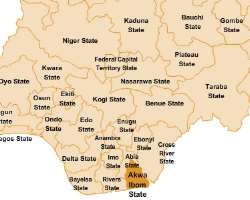 SAN FRANCISCO, May 07, (THEWILL) – As permutations for the 2015 governorship election in Akwa Ibom State get underway, a socio-political organisation operating under the aegis "Ibom Founders" has warned those blackmailing well-meaning citizens of the state to stop the habit forthwith, saying it was ready to slam court actions on such blackmailers.
In a statement titled, "For the Umpteenth Time, President Jonathan Never Disqualified Obong Umana Okon Umana, " the group said it decided to take the step based on the on-going rumour that President Goodluck Jonathan has disqualified the Secretary to the State Government, Mr. Umana Okon Umana, from contesting as governor of the state in 2015 on grounds of zoning.
"In spite of the glaring facts and dispassionate refutation by trustworthy individuals and groups, some partisan interest associations are still clinging to a lame rumour that the technocrat par excellence and Secretary to Akwa Ibom State Government, Obong Umana Okon Umana, was rejected by President Goodluck Jonathan and thus preventing him from contesting the 2015 gubernatorial elections in Akwa Ibom State.
"We deem it pertinent to issue this statement for clarification on the claim to correct wrong impressions the misinformation might have created. Though we know that career blackmailers will stop at nothing to tarnish the hard earned image of anyone who poses a threat to their ambitions, it is necessary to set the record straight; at least for the benefit of those who need to know the truth.
"We want to state clearly that the president has never made any statement – verbal or written that suggested anything close to disqualifying Umana Okon Umana who is the most qualified person and should he decide to contest, will definitely win a landslide any time," the group said in the statement.
Maintaining that with the overwhelming desire of the nation to chose their leader by merit rather than patronising ethnic sentiment by the name 'zoning or power rotation', expressed in the recent polls conducted by the National Assembly, the group said the president will not interfere in the choice of governorship candidate of any state, to protect his democratic credentials.
"From the experience at the National Assembly, it is glaring that anyone who is still preaching zoning is serving his own interest and not the need of the masses. President Jonathan is definitely not one of those parochial thinkers," the statement stressed.
The group however urged the people of the state to desist from what it called the inordinate pursuit and join the uncommon transformation policy of Chief Godswill Akpabio's administration which, according to the statement, Umana pays loyalty to in building a state that will stand the test of time.
"If the blackmailers fail to heed this noble warning, we will be compelled to take legal action against them in furtherance of our commitment to defend the cause of well-meaning citizens of the state whose passion for developing the state is unwavering," the group said.