N1.8Bn Scam: Defence Team's Application Stalls Proceedings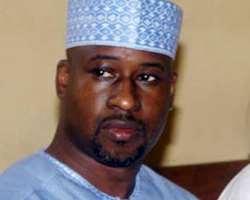 MAHMUD TUKUR, SON OF PDP CHAIRMAN, ALHAJI BAMANGA TUKUR
SAN FRANCISCO, May 06, (THEWILL) – Attempts by the Economic and Financial Crimes Commission, EFCC, to call its witnesses in the ongoing trial of Mahmud Tukur, Ochonogor Alex, Abdulahi Alao and Eterna Plc who are standing trial at a Lagos High Court for their alleged involvement in the oil subsidy scam, was on Monday thwarted by the defence team through a late application challenging jurisdiction of the court.
The application was served on the prosecuting counsel, Rotimi Jacobs, SAN, barely 20 minutes to the commencement of proceedings.
Jacobs told the court that he was not aware of any ongoing discussions as claimed by the defence team led by Wole Olanipekun , SAN, and Tayo Oyetibo, SAN, that would have justified the late application. He therefore submitted that the case be heard and expressed his willingness to argue the application of the defendants orally.
But the defence team insisted that it would need 48 hours to put in a written address.
Justice Adeniyi Onigbanjo subsequently granted the defense team 48 hours to file a written address and serve same to the prosecution while the prosecution files its response within seven days.
The court then adjourned to May 28, 2013, for hearing of the application.
Mahmud Tukur, Ochonogor Alex, Abdulahi Alao and Eterna Plc were alleged to have fraudulently obtained N1.8billion from the Federal government through the Petroleum Support Fund, and subsequently arraigned on a 9-count charge for offences that bordered on obtaining money through false pretence and forgery, contrary to section 468 of the Criminal Code.