New Attorney General Linked To Suspects In Ibru Money Laundering Trial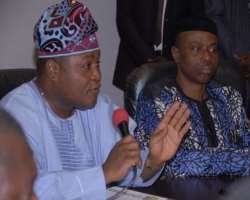 PHOTO: L-R: PRINCE ADETOKUNBO KAYODE WITH ONDO STATE GOVERNOR OLUSEGUN MIMIKO.
San Francisco Feb 16, (THEWILL) – A new research by THEWILL has linked Nigeria's new Attorney General and Minister of Justice, Prince Adetokunbo Kayode (SAN) to Mr. Dele Kelvin Oye, one of the figures declared wanted by the Economic and Financial Crimes Commission, EFCC, in the ongoing trial of former Oceanic Bank managing director, Mrs. Cecilia Ibru.
Oye, an Abuja based legal practitioner who is alleged to have helped Mrs. Ibru launder millions of dollars is a very close associate of Adetokunbo Kayode. Multiple sources in Abuja confirmed their very strong ties. Both men often attended social functions together including visiting restaurants and nightclubs. They are also alleged to have done deals together while Kayode was Minister at the Ministry of Labour and productivity. Our findings also showed that Kayode has a very good relationship with the former managing director.
The EFCC gets its prosecutorial powers from the office of the Attorney General and Minister of Justice. Sadly, the office can stall or at least frustrate the commission's prosecution of Mrs. Ibru, Oye and Mrs. Ibru's domestic staff, Nana Shetu Bedell.
Former attorney general, the very controversial Michael Aondoakaa was known to have used the powerful office to frustrate the prosecution of many influential politicians and businessmen, a move that fueled a bitter fight between himself and the EFCC under Nuhu Ribadu's chairmanship and Farida Waziri's.
Dele Oye is believed to be hiding somewhere in France while Mrs. Ibru is believed to be somewhere in Lagos after the commission evicted her from the Ibru mansion on Queens Drive in Ikoyi and sealed it off. Mrs. Ibru's assets worth over N800 billion naira have been seized by the EFCC.
The next few months would tell whether the new Attorney General would stand aside and let the law determine whether the parties are guilty of the crimes they are being prosecuted for.
THEWILL could not reach Prince Kayode when we called.
|
Article source