Jonathan Is New ECOWAS Chairman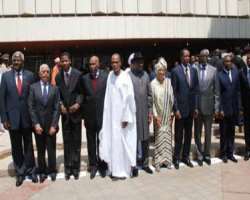 PHOTO: ECOWAS LEADERS DURING A PHOTO SESSION AT THE HILTON.
San Francisco Feb 16, (THEWILL) - Acting President Goodluck Jonathan was elected the new chairman of the Economic Community of West African States (ECOWAS) for one year on Tuesday night in Abuja. He takes over from ailing President Umaru Yar'Adua.
President Yar'Adua was chairman of the body until his ailment forced a reschedule on two occasions of the 37th summit of the sub-regional body.
Ghanaian Ambassador Victor Beyu was also chosen to replace Mohammed Ibn Chambas as President of ECOWAS Commission.
In his address at the summit of ECOWAS heads of state and government at the Transcorp Hilton Abuja, Jonathan saw Nigeria's reelection as an affirmation on the country's leadership ability. He challenged members of the body on electoral reforms in their various countries and canvassed for free movement of goods, persons and services in the region.
Lamenting the decline in the growth rate of the region, the chairman called for stronger economic integration among countries in.
Calling on the leaders to strengthen democracy in the region and decrying the violence and killings in Guinea, Jonathan said: "Your Excellencies will recall that we were confronted with a number of most undemocratic efforts at political change. In a few of our countries the will of the people and their genuine aspiration for democracy were trampled upon with impunity."
"Let it be stated again that no place exists in this sub-region for such rape on the rights and indeed dignity of our people. No more will there be comfort zone for such political mis-adventure."
The new chairman also called on ECOWAS leaders to evolve new strategies on countering terrorism and drug trafficking.
The heads of state in attendance were Liberia's Ellen Johnson-Sirleaf; Dr. Thomas Boni Yayi (Republic of Benin); Ghana's John Attah Mills; Burkina Faso's Blaise Compare; Guinea's Bacai Sanha; Senegal's Abdoulaye Wade; Ernest Koroma of Sierra Leone amongst others. Gambia, Mali and Ivory Coast sent representatives.