Senate Says It Will Not Pressure Executive Council Over Yar'Adua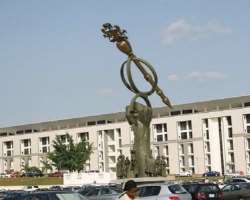 Abuja Feb 16, (THEWILL) – The Senate rose from its Tuesday session in Abuja distancing itself from the ultimatum issued the Executive Council of the Federation by senate members belonging to the National Interest Group.
The group through its Chairman Mr. Bala Muhammed said the group had deliberated on the long absence of President Yar'Adua and had agreed to compel the executive council to declare him incapacitated.
Bala said: "We met and Sections 143 an 144 were extensively discussed by those in attendance. What we are trying to do is to stabilize and solidify power transfer to the Acting president. We want to give the nation a focus to move forward, we are only trying to consolidate."
Senator Dahiru Umar, PDP, Sokoto, brought the matter to the chamber via orders 14 and 18 of the Senate standing rules complaining that the report which was also published in THEWILL gave the impression that the Senate had resolved to give an ultimatum to the executive council of the federation to act in urgency on the president's long absence.
Defending himself on the issue in the chamber, chairman of the group Bala Mohammed said: "Whatever position that is said that we have taken as National Interest Group, NIG, is a group of lobby forum, and I have no apology that we have this forum. It is not against the Senate leadership; not against anybody but in order to have a synergy of ideas.
"However, it should be appreciated that as an individual, I am free to express myself or give an opinion as a distinguished senator, but not to infringe on the institution of the Senate. Having said that, I am humbled by opinions expressed by some of my colleagues who doubted that this report could not have emanated from us.
"But, of course, permutations in politics are coming. I don't want us to spoil the goodwill that we have given this country by coming here to blame Bala and Smart Adeyemi. Our achievement is an institutional achievement and if the Press is trying to calculate certain things and may be to pre-empt the Senate, that is a different thing. But we should not sit down here as an institution and be discussing that this is a junior senator and this is a ranking senator, no!
"As I said before, the quoted statement is not my quote. And even if I had done it or Smart had done it, maybe we have done it on our personal capacities. I cannot be a spokesman of the Senate. This spokesman issue is a very controversial issue. So, my distinguished colleagues, if you feel bad about it I am very sorry."
In his submission on the matter, Senator Uche Chukwumerije Said, "Those behind the stories in the Senate are mistaking their personal and selfish ego and interest for our collective decision." Chikwumerije added that the report was "amateurish and unimaginative aimed at diminishing the image of the Senate."
Senators Nuhu Aliyu, Bassey Ewa-Henshaw, and Olurunibe Mamora also commented on the issue.
After the senators had aired their views on the subject, Senate President Mr. David Mark said: "I think there is really no need for further comments on this. It takes a man with a heart to say my colleagues feel bad about this, I am sorry. You see my stand on this matter is that the Senate had unanimously taken a decision that we believed and we still believe till tomorrow that it is in the best interest of this country. We will not do things that do not fall within our purview.
"What FEC does is their own problem, not our own. So, for all these headlines saying 'Senate gives 48 hours ultimatum,'they are imaginations of somebody. And if the distinguished senator says he did not say so, then whoever has given out this news item is somebody who is not patriotic in this country.
"This is a trying period for this nation and nobody who means well for this nation must not drive the nation to precipice because they drive us to a dangerous end of a cliff and in a situation nobody knows where the country is going to wind up.
"The Senate will do what is in the best interest of this country. We have no right to give FEC an ultimatum; we have not given FEC any ultimatum. Why are we bothering about what FEC ought to do? We have more than enough job to do here and we are doing it well at the moment."
Last week, the Senate and House of Representatives passed a resolution allowing the Vice President Goodluck Jonathan become Acting President. That resolution is presently being challenged in a Federal High Court.
|
Article source