Why We Advocate For Special Courts-Waziri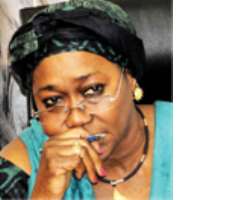 PHOTO: EFCC CHAIRMAN FARIDA WAZIRI.
Abuja Feb 16, (THEWILL) - Chairman of the Economic and Financial Crimes Commission, EFCC, Mrs. Farida Waziri has said that her repeated calls for the establishment of Special Courts to prosecute corruption cases is in the interest of justice rather than lack of confidence in the regular courts.
Speaking at a G-6 security summit organized by the FCT administration to expedite trial of criminal cases in Abuja on Tuesday, February 16, Waziri said her call for special courts is borne out of the need to ensure that corruption cases are not stalled endlessly in the regular courts in a way that will create the impression that the nation is not committed to the anti-graft war.
Farida said, "we have all identified corruption as our major problem and as such we all have to identify ways of tackling the problem. We have seen how the accused persons manipulate our procedural laws and criminal justice system to frustrate and prolong their trials and that is why we have come forth with the special court option as a way out."
She explained that the summit on expeditious trial of criminal cases couldn't have come at a better time than now.
"As stakeholders in this issue of expeditious trial of criminal cases, we are glad that a strategic step like this is being taken. We must remind ourselves that section 36 (4) of our constitution makes provision for the trial of any person charged within a reasonable time by a court of competent jurisdiction.
"In effect, the constitution is mindful of the fact that whoever is charged should know his/her fate within the shortest possible time. But in practice, we have criminal trials going on for years and in our own case at EFCC, this is a major challenge. We have many cases that are yet to leave the plea stage especially our high profile cases even four years after they have been filed. This is contrary to the spirit of our constitution.
"Several factors have been responsible for this. They include interlocutory injunctions, defense counsel's deliberate attempts to stall trials, procedural laws and our criminal justice system, that is, trial within trial procedure, which prolongs trials. These and several other obstacles to expeditious trials I believe this summit will address so that the confidence of our people in the judicial system can be fully restored.
"You will agree with me that our frustration in the delay of trials has been the major reason why we have advocated for the setting up of special courts so as to ensure that justice is not delayed," she added.
The EFCC was established under the Olusegun Obasanjo democratic government with Mallam Nuhu Ribadu as its pioneer chairman.
|
Article source