Chris Oyakhilome`s Christ Embassy, Deadbeat Employers!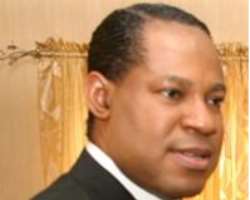 The much resentment of most Nigerians about religious institution's nonchalant attitude towards lending their voices in the fight to entrench a New Nigeria might not be far fetched as stories heard from such churches which have become mega business empires are nothing to emulate. Some of these churches play the Ostrich when issues of national concern arise; a recent development was the power vacuum created by the ailing Nigerian president, Mr. Umaru Yar, Adua who was hospitalized since November 2009. Out of the many churches, only a few played a prominent role in preaching for continuity in government even when it was eminent that disaster was looming ahead.
What many don't know is the enslavement that some of the workers in these churches pass through.
Recent investigations by Huhuonline on how some of the church workers are treated revealed that many of the so-called men of God can only be likened to slave drivers akin to the colonial era when a slave does only his master's bidding.
"The church is simply very autocratic and not democratic as it ought to be," an aggrieved member of one of the new Pentecostal churches lamented.
One of such churches that is guilty of such immoral abuse of their workers well being is the Christ Embassy Church.
Not new to scandals, the church led by Pastor Chris Oyakhilome may be running seriously into trouble should some defiant members of the church makes good their threat to report the treatment meted out to them to labour unions.
Huhuonline gathered that some of the alleged corporate breeches some of the workers in the church face are delayed salaries, unwholesome deduction from pay and incurring debts for services rendered.
An employee of the ministry who works at the Healing School located along Billings Way, Ikeja, Lagos, revealed to Huhuonline that she was owed close to three months salary arrears until December last year.
"I started working at the Healing School in July and was not paid from October till December when a fast was declared for every worker. It was then they felt that I should get a month's wage. I believe they were afraid that I may fall into serious health problem. The thing that pains me most is that the Pastors will ask you of everything but if you have been paid. They were all pretending," she said.
The church authority recently frowned at a soft sell publication in January that published a story of how church workers were denied their January pay in the name of First Fruit where it was required that they forego their first salary. Many of the aggrieved workers complained that the Pastors that collected their salaries did not consult with them as the donation was supposed to be made by any employee and not mandatory but they were shocked to learn that they would not be collecting their January pay.
Another Christ Embassy company, Paradigm Communications, publishers of the National Standard magazine and National Daily Newspapers, both managed by Christ Embassy, is said to have owed their workers for many months. While National Standard has closed shop due to mismanagement on the part of the ministers appointed to handle the place, National Daily Newspaper, was heavily indebted to its staff to the extent that workers threatened to close the paper down. Huhuonline learnt that both publications, at various times, owed their workers up to five months in arrears of salaries even at a time when their Managing Editors were travelling all over the world and living large. It was gathered that even after December 7 last year when the birthday of the General Overseer, Pastor Chris, was celebrated and millions of Naira was paid in congratulatory messages through the two medium which was the official dailies to channel birthday greetings for the man of God, the media houses vehemently refused to pay their workers.
"We were told that the adverts were not paid for or that those that placed them had not paid and these adverts were placed by satellite churches of Christ Embassy from all over the world and pastors. We then began thinking that it is either the management was lying or that the pastors and churches that put up the adverts were fraudulent and need to be reported to the EFCC," an aggrieved worker with one of the papers told Huhuonline.
Another development that highlighted the slave treatment that has become second nature of the establishment was the December 2009 attempted bombing of the Super screen television. Sources told that unpaid wages may have been the motive for the suicide bombing.
|
Article source