Lagos under siege, as assailant's murder former Tinubu aide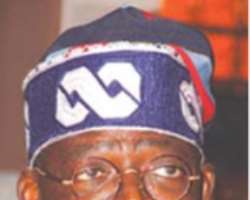 Following the impasse between Governor Fashola and his estranged god-father Senator Bola Tinubu, the political atmosphere in Lagos has remained tensed and hostile. Huhuonlime.com can reveal that a former Special Adviser to Lagos State
Governor on Mineral Resources, Mr. Ahmed Onipede, was on Monday (Feb 15) murdered in his Badagry home (Lagos suburb).
Records have it that the deceased, Onipede served in the administration of the immediate past state governor, Senator Bola Tinubu. Sources confirmed that although the deceased was not shot, slaughtered nor strangulated, but there were some signs of violence found on his body just as he was lying helplessly with his stained dress. His remains was said to have been discovered by his gardener at about 7.30am. The gardener reportedly raised the alarm that attracted neighbours and sympathisers who later reported the case at a nearby police station.
Huhuonline.com gathered that his remains, which might be buried on Tuesday (Feb 16) according to Islamic rites, were thereafter taken to a hospital for autopsy. The state police command's Public Relations Officer, Mr. Frank Mba, confirmed Onipede's death. Mba, a superintendent of police, said it was a case of homicide. He also added that the command had commenced investigation into the circumstances surrounding the incident.Also the Publicity Secretary of the Action Congress, Lagos State Chapter, Mr. Joe Igbokwe, in an interview with one of our correspondents, said he had just been briefed about the killing and could not get a clear picture of what happened. He said, "I don't know what happened; I have not got a clear picture of the incident. I was in a meeting when I got information about the death."Onipede joined Tinubu's administration on March 29, 2001 when the former governor redeployed three commissioners and appointed two special advisers as part of the re-organisation of the machinery of government. The then Head of Civil Service in the state, Alhaji Rafiu Tinubu, announced Onipede's appointment as special adviser alongside that of Mr. Henry Ajomale as Special Adviser on Political and Legislative Powers. Ajomale is now the current Action Congress Chairman, Lagos state chapter.