MARGINALIZATION: YOU CHOP ALONE YOU DIE ALONE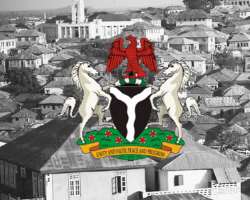 When poor people cry about marginalization by the rich and powerful, it takes too long to take them seriously. But when former head of state, an oppressor himself, Obasanjo warned against revolution, they look behind their shoulders. Prof. Nwabueze warned of the same while Danjuma warned that revolution does not discriminate between victims and oppressors. Gov. Aregbesola of Osun State is warning of Boko Haram in the South.
President Ebele and those surrounding him have decided that since the money being spent is oil money, the legitimate custodians must be those from Niger Delta. Reserve is running low in cash and products. So it will be a disaster if the well runs dry without much to show for it except environmental degradation in the South-south. The internal policy is to direct as much loot as they can towards that region. You blame them?
The other regions that have gotten used to free generous allocation, see through the internal policy and they are demanding their equal share. Otherwise those that chop alone will die alone. Boko Haram wants its share and some Yoruba leaders claimed marginalization because every administration including that of their son ObJ the "most detribalized Nigerian" took them for granted.
Now, the Association of old retired politicians is crying marginalization. They are led by Joseph Wayas, General Gowon, Gen.(?) Diya, Umaru Dikko, Adamu Ciroma, Jim Nwobodo to name a few. They claim Nigerians are not grateful after risking their life serving the Country. In a country flowing with milk and honey, more than they realized when they were in office, those of you chopping alone must die alone.
Unless you can assure the Government that your militia can keep the oil pipelines safe from your vandals, no contracts waiting for MASSOB in the East, OPC in the West, Arewa Youths in the North and of course MEND in the South-south. If you want a contract, go and form your own militia association. Otherwise you are not getting anything from the Federal Government. Security is job number one at the expense of sanity.
Well, many university graduates are doing exactly that. They form armed robbery gangs, kidnapping groups, drug mules and 419 associations. The women cannot be left out unless you have not noticed the increasing amount of younger and desperate prostitutes recruited locally and internationally. Unfortunately, women the keeper of our community, culture, children and families cannot even take care of themselves.
When women, the creators of life and managers of families are left to fend for themselves, some of them become prostitutes as we point four fingers at ourselves for the loss of our society that went awry. Any society that cannot protect its women and children has lost its bearing. It is as good as dead. Indeed, it may perish when other culture, other countries and other continent absorbed and treat our women and children as their second class citizens.
The damage of all these is crowding out legitimate businesses like lawyers defending crooks, doctors as personal physicians of crooks treating gunshots wounds, accountants cooking books for politicians, banks, contractors and funny businessmen. Every foreign business men will tell you there are high returns on business in Nigeria. The only problem is that they have not benefited the average man or lifted up the masses.
It is getting hotter. Young men are invading the houses and offices of their local council representatives and beating the heck out of them. It started with Oba that sided with certain politicians and made it worse by offending sensibility or the culture. These boys have an ant bigger than what we see on the surface. When community starts falling apart, it starts from the youths disrespecting their elders, norms and culture of greed.
May be the revolution is already here, it is just silent until a member of our family is kidnapped. While warning one another to be careful, a friend made it clear those boys are university graduates that invest the little they have in kidnappings. They are not foolish enough to waste their investment on somebody that will not produce returns on meager savings. Those that kidnap contract out to those that house and feed victims.
Some months ago four senators including Babafemi Ojudu and Oluremi Tinubu ran into youth protesters in Ibadan that vandalized their cars. They were lucky, it could have been worse. During the Occupy Lekki protest, we thought that was it, the revolution we were hoping for has arrived. Some of the protesters went to occupy Bourdillon but it was subdued, not for ever. Next time it might be worse. See it here.
You Chop Alone You Die Alone starts from the greedy Oga At The Top commandeering all the contracts, allocation and infrastructure meant to better the dire situation of the masses. They get acclimatize to certain way of life because of easy money and spend it within their families lavishly. Even when they retire or are no longer on seat, they come back for more. Those on seat remind them that: you chop alone, you die alone.
During the time of Tafawa Balewa, Okotie-Eboh was the richest man in the cabinet as the Minister of Finance negotiated by NCNC. By the time Obasanjo became the military President, the richest man was Babangida. So was it during the time of Shagari: Umaru Diko and Akinloye were amongst the richest men. Situation has changed since then, and we have the heads of state richer than god these days.
As long as he obeyed the golden rule that you chop alone, you die alone like Abacha.
Written By Farouk Martins Aresa

Disclaimer:

"The views/contents expressed in this article are the sole responsibility of the author(s) and do not necessarily reflect those of The Nigerian Voice. The Nigerian Voice will not be responsible or liable for any inaccurate or incorrect statements contained in this article."
Articles by thewillnigeria.com