Timipre Sylva Begs On Bended Knee, As London Metropolitan Police Find 1million Pounds In His London Home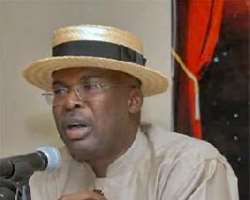 Governor of Bayelsa State, Timipre Sylva has been barred from entry into London according to credible information received by Ukpakareports.com through sources close to the Governor that has been confirmed by officers in London.
In late September 2009, the metropolitan police, acting on a tip, raided the home of the embattled governor of Bayelsa State, Timipre Sylva. The home which is said to be worth over 2million pound sterling was said to have netted 1million pounds during the surprise raid. A cash amount of 1million pounds was found hidden in the house belonging to Gov. Timipre Sylva.
As a result of the find, the metropolitan police launched an investigation of the governor of Bayelsa State, Timipre Sylva while barring Timipre Sylva from entry into London. One of our sources indicates Timipre Sylva to be wanted for questioning by the metropolitan police. And as a result of the interest of the metro-police on Timipre Sylva, Timipre Sylva has had to change his recent travel plans. The governor had planned to be in Brazil for the Rio De Janeiro Carnival but had to cancel the trip to avoid having to land in London.
Ukpakareports.com has credible information indicating Timipre Sylva sought the audience of the former President, General Olusegun Obasanjo at his Otta farms. While addressing the former head of State, Timipre Sylva knelt on his knee to plead on Obasanjo to help plead with Acting President Goodluck Jonathan to forgive him. Timipre Sylva was said to have been brushed off when he went to the Goodluck Jonathan to plead for forgiveness. Timipre Sylva had actively campaigned against Jonathan's emergence as the Acting President. Nonetheless, Obasanjo had to softy rebuff him having been aware of the tussle between the two – of which Obasanjo did not fancy the role Sylva played. Obasanjo's rebuff did not come as surprising to Sylva. By implication however the 2011 gubernatorial polls appear evaporating out of reach.
At the Devil's mercy, Sylva finds himself swimming in Crocodile infested waters. Sources close to his business and financial activities state that a mighty financial pillar has been recently pulled out of Timipre Sylva financial/business dynasty. As gathered, a close friend of Timipre Sylva whom he had used effectively to hide his real estate acquisitions and other business activities, made away with the accumulated real estate along with all the businesses. Because the entire documents bared his name, he simply walked away. Details are still sketchy.
|
Article source