GEORGE W. BUSH: A TRUE AND BEST FRIEND OF AFRICA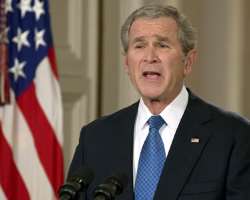 FORMER US PRESIDENT, GEORGE W. BUSH
It does not happen often, but five living American presidents recently gathered in Dallas, Texas to dedicate George W. Bush presidential Library.
Political and ideological differences notwithstanding, there was a resounding conclusion that George W. Bush policy on Africa was most effective and generous especially his endeavor to combat HIV/AIDS crisis and signing peace treaty in Sudan.
When most people do contemplate on which American president is the best and true friend of Africa. I bet you, Obama and Clinton will probably come to their mind; the last person they that might think of is George W. Bush, the 43rd president of America. People may find it hard to accept that a Republican Party president was the one that extended a helping hand to Africa at the darkest and heighten period of AIDS/HIV crisis.
The recorded history was the testament to the uncommon generosity offered by George Bush who persuaded the US Congress to fund AIDS relief to combat African greatest health crisis.
At the apogee of AIDS epidemic in Sub-Sahara Africa, due to poverty and inadequate medical and health facilities to manage the AIDS crisis, millions of Africans were dying. Therefore it became imperative that the rising AIDS threat to the continent must be combated before it assumed an explosive dimension and reaches a point of no return. And that was when Bush came to the rescue and joined the fight to daunt the rising tide of AIDS crisis in the world.
In 2003, President George W. Bush lunched "President's Emergency Plan For AIDS Relief (PEPFAR)." A relief fund to fight HIV/AIDS around the world including Africa where AIDS have devastating and debilitating effects on the people. Bush urged United States Congress to committee $15 billion over five years (2003–2008) to fight and combat the deadly disease.
Again in 2005, former President George W. Bush lunched another program known as Malaria Initiative. A five year commitment of $1.2 billion was set aside to combat malaria disease in 15 African countries where malaria has done the greatest damage to lives and wellbeing.
According to UNICEF, "Malaria is the leading cause of mortality among children under the age of five in this West African nation Malaria still kills 660,000 people every year, most of them African children.
Insecticide-treated bed nets are critical to eliminating deaths from malaria—one of the leading killers of children in the world says UNICEF on World Malaria Day. The number of bed nets in sub-Saharan Africa has increased to 145 million thanks to bulk buying, joint procurement, financing and extending manufacturing capacity. Since 2000, 1.1 million lives have been saved from malaria, and malaria mortality rates in Africa have declined by one-third."
Bush made one of the greatest attempts to hold back AIDS crisis. He was pragmatic and generous, without giving a lip service to the emerging calamity in the continent. Bush was thorough a compassionate person, he did not intellectualize nor become philosophical, rather he quickly acted to save a generation of people that AIDS would have wasted and annihilated.
Former President Jimmy Carter acknowledged Bush favorable African policy.
When it comes to helping the poor and needy around the world including Africa, Carter is not a stranger in that area. Carter is authentic and has the credentials on building houses, providing health care and relief
assistances to the poor and needy. Carter's words are trustworthy and bankable; at the dedication of George W. Bush Library, former President Carter paid a glowing tribute to George W. Bush for his effectiveness and compassionate role in Africa:
"In 2000, there was a disputed election for several weeks and finally when President Bush became president they had the inauguration in Washington on schedule. I think my wife and I were the only volunteer Democrats on the platform. ..
The worst problem now is the war going on between North and South Sudan, and millions of people have been killed and I would like for you to help us have a peace treaty there. In a weak moment, he said I'll do it. He said well, I haven't even chosen them yet, but give us three weeks. Three weeks later, I came up.
President Bush kept his promise. He appointed John Danforth and a great general from Kenya. In January of 2005, there was a peace treaty between north and south Sudan that ended a war that had been going on for 20 years. George W. Bush is responsible for that.
That was the first of his great contributions to the countries in Africa.
As has already been mentioned, he increased his assistance to Africa until the time he went into office to more than $90 billion. That's an increase of 640 percent. That is development assistance. He established a program.
There was 6,000 people being treated for HIV. Two million when he left office. At this new institute he has a program called pick ribbon and red ribbon. That is something that is dear to my heart and I know means a lot to millions of people in Africa. I am filled with admiration for you and deep gratitude for you. Thank you very much. "
Former President Bill Clinton said "I want to thank President Bush for passing PEPFAR. No president of my party could have passed that through the Congress, I have personally seen the faces of some of the millions of people who are alive today because of it."
As of July 2012, former President George W. Bush visited Zambia and Botswana with his wife, former first lady Laura Bush to promote health initiative on treatment and prevention of cervical and breast cancer.
Bob Geldof, the musician turned social activist of Live 8 Concerts have in the past lavish praises on George Bush for his decisiveness in Africa, his words: "I read it has been incompetent - but not in Africa. It has created bitterness - but not here in Africa. Here, his administration has saved millions of lives."
While Bono an activist, the front man of musical group U2, spoke about Bush contribution in combating AIDS: "It's incredible; it's incredible what George Bush's— President Bush's name is in the history books. His name is in the front foreword of a book that's written on the end of AIDS." In another occasion Bono said to a crowd, "I know that's hard for you to accept but George kind of knocked it out of the park. I can tell you, and I'm actually here to tell you that America now has five million people being kept alive by these drugs. That's something that everyone should know."
Before George Bush intervention, many of his African counterparts were struggling on how to cope with the health crisis. Some African leaders were giving the best they can to combat the disease but lack of fund and health facilities made it nearly impossible to hold back the surging disease.
Poverty was and continues to be greatest barrier to fighting AIDS in Africa. Poverty translates into lack of information and education which are the cornerstones for winning the battle against the deadly disease and saving lives. Indifference among some African leaders played a detrimental role in the consequential explosion of AIDS. These leaders were busy mismanaging resources and siphoning money abroad, as their people were suffering and dying. And it took an outsider without a personal or strategic interest to intervene and saved lives in Africa.
It is important to remember this great dispensation of helping hand that he aided to turn the tide in the struggle against HIV/AIDS. No one is saying that the battle against the crisis has been won, but the emergency fund from Bush's America was successful in laying the foundation for the war against the disease.
Former President George W. Bush was not obligated to offer a helping hand but he did it anyway. What we can acknowledge here was that he did something extraordinary without expecting anything in return. For this act of great compassion, Africa is grateful and without doubt George W. Bush was and continues to be a true friend of Africa. Thank You! Mr. President.
Written By Emeka Chiakwelu


Disclaimer:

"The views/contents expressed in this article are the sole responsibility of the author(s) and do not necessarily reflect those of The Nigerian Voice. The Nigerian Voice will not be responsible or liable for any inaccurate or incorrect statements contained in this article."
Articles by thewillnigeria.com