Oshiomhole Begged To Join PDP Severally, Says Metuh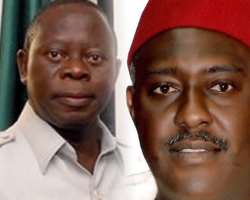 SAN FRANCISCO, May 01, (THEWILL) – The national secretariat of the Peoples Democratic Party (PDP) has alleged that Goveror Adams Oshiomhole of Edo State "went on all fours" begging to be allowed to join to the PDP as various times in the past "but was turned down."
The PDP's allegation is coming after the Oshiomhole described the ruling party as a "party of rogues."
In a statement by Chief Olisa Metuh, its National Publicity Secretary, the PDP affirmed its earlier position that the Governor Oshiomhole and his party, the Action Congress of Nigeria (ACN) are "the real brood of rogues."
"The same PDP which Adams went on all fours, begging to join on several occasions has suddenly become the "party of rogues" because of his desperation to justify the massive rigging and democratic aberration that was local government elections in Edo state.
"In 2007, Adams begged to be given an opportunity under the Umbrella but we considered his governorship aspiration an assault on the existing zoning formula in the state and quietly turned him down. Again in 2012, Adams once more came cap in hand and our great Party again rejected him," said the statement from Metuh.
"Is Adams just realizing how bad our party is and was all the while begging for membership?"
The statement also said it is Mr. Oshiomhole's Action Congress of Nigeria (ACN) that is the real brood of rogues as their actions in the conduct of local government elections in Lagos, Ogun and now Edo clearly manifest.
"First is that Oshiomhole is governor primarily because of the unflinching commitment of the PDP to the rule of law and credible elections. No amount of falsehood by the ACN can obliterate this. Governor Oshiomhole therefore carries a huge moral burden when as the largest beneficiary of these democratic values guaranteed by the PDP led Federal Government, he went ahead without scruples to deny his people the opportunity to elect the leaders of their choice.
"And when Oshiomhole referred to the PDP as corrupt," the statement continued, "it is very needful to remind him that corruption is home to the states under the CAN, the party said, adding, "Without guessing the disquieting cases of corruption in Edo State, we wish to ask Governor Oshiomhole to explain how less than a 7kilometer Benin Airport road fraudulently awarded at six billion naira is yet to be completed after four years and how six hundred million naira was used to change the roof and repaint the walls of Idia College in Benin."
The statement further said it was nothing but corruption that could cause the buildings at the central hospital Benin to collapse under construction after the project was awarded at the whooping sum of two billion naira.
The PDP also challenged the Edo Governor to unmask the face of the printer behind the sub-standard ballots used for the local government polls for which hundreds of millions of tax payers' money was spent on.