MICHEAL UBOGU: A SELFLESS SERVICE TO HUMANITY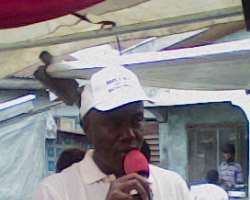 Micheal Ubogu is the Managing Director of Micura Services Limited (MSL) that is fully into Stevedoring Services Company that was established in February 2007 with corporate offices in Lagos and Calabar. Micheal Ubogu is from Delta State of Nigeria which major call as a person to put smiles on the downtrodden or less privileged ones in the society. Every successful wealthy Nigerian with genuine profession has a theoretical experience of poverty to riches whom the gentleman in person of Micheal Ubogu has suffered the same feat of deprivation over the years till God visited his destiny in a miraculous ways without hesitation. The Bible says "A giver will never lack "whom Micheal Ubogu has continued to provide selfless service to humanity without iota of objection to his noble call.
Micura Services Limited is fully registered with the Nigerian Safety and Maritime Safety and Maritime Services Administration (NIMASA) with over 700 Terminal workers who are presently loading and unloading vessels and stacking finished goods in ENL Terminals, Apapa Bulk Terminal, Ibru Terminal at Apapa Wharf in Lagos and Terminals in Calabar. Micura Services Limited provides labor and machines to load and unload all types of cargo. The primary knowledge of the company to provide local manpower and equipment capabilities and assures clients that their shipments will be digitally handled safely, effectively and economically.Micura Services Limited is one of leading and reliable Maritime industry in Nigeria without qualms.
Micheal Ubogu's rough beginning never deterred his noble vision towards attainment of destination but strive hard to be recorded within the Maritime industry in Nigeria and abroad. He is also friendly with foreign partners in business especially the Maritime industry and nothing else. From 2007 till date, Micura Services Limited has recorded astronomical successes in bulk bagging, stacking, loading and unloading of containers equipment leasing in the Maritime industry. No worker with Micura Services Limited complains of underemployment or being humiliated of any sort. It is rare to see kind- hearted and vivacious philanthropist in Nigeria to give wholeheartedly to the less privileged ones in a slum area of Ajeromi- Ifelodun popularly called Ajegunle.Micheal Ubogu is a reputable importer of the 21st century with enduring spirit of alleviating poverty from the lives of Ajegunle widows in spite of the harsh economic growth and bad leadership in Nigeria in recent past years.Micura Services Limited is a registered member of the National Association of Stevedoring Companies (NASC). It is a service-oriented company in the Shipping industry which has grown its capital turnover from less than #10million to over 200 million in a period of two years and above. In July 26, 2009 the company recorded economic growth with just one million share Capital to start of the company which dedication, accountability, perseverance and consistency has helped him to make the company a leading one in Nigeria and abroad.
Before Micheal Ubogu started his company, he had 10 years experience in bulk bagging business and importation of used cars, trucks and buses. The company has its operation base at ENL, Consortium Terminals Limited Nigerian Maritime Administration Safety Agency (NIMASA). It is a subscriber of the Federal Government Pension Fund Administration and Industry Training Fund. Micheal Ubogu is a man of the people with the divine gift of giving to the less privileged ones. Great people are known by their worthwhile contribution to the society at a regular basis. Having employed over 700 Terminal workers which salaries are paid on regular basis while high profile services are provided for staffers. Nobody works with Micheal Ubogu and regrets it. Consignments imported abroad are delivered within five hours while intelligent high profile staffers are employed to provide quality services to clients. Tunde Alapini, the Executive Director of the Micura Services Limited has assiduously contributed to the developmental progress of the company.
As a great importer of the 21st century with vision to make Micura Services Limited to be sought after in Nigeria while the company has handled major government contracts with excellent services. Micheal Ubogu never allows his meteoric rise in wealth to abandon the poor but diligently distributing his God's given wealth to the downtrodden Ajegunle widows, old people, youths and others. He is a good Christian that has love for things of God with a difference.Micheal Ubogu single-handedly sponsored Wazobia Widows Foundation of Nigeria (WWFON) that is coordinated by the vibrant Evangelist Benjamin Igoh(JP) and offered 16 children of the widows free scholarship to the university and purchased JAMB forms for them. He promised to assist the widows' graduate sons and daughters for full and part-time employment. If committed and devoted Nigerian financial givers are named, Micheal Ubogu is among the few.Micheal Ubogu is rated among the great Nigerian philanthropists like Agatha Amata of Inside-out Media Limited CEO, Super Comrade Joseph Evah, Barrister Festus Keyamo, Engr. Johnny Onozefe, Engr.Solomon Okpithe, Elo Ikogho, Engr. Jurry Odidi, Chief Edwin Ozah, Hon, Malik Itiako Ikpokpo,, Hon Benjamin Essien, Ambassador Jonah Edigbe, Hon, Ebegbare Dickson, Prof. Pat Utomi,Otunba Isaac Emiyede, Micheal Adenuga, Ali Dangote, Sunny Ofehe. Bishop Matthew Omodiagbe, Pastor Jonah Isreal.Dr. Chima Okereke and others who have greatly and positively affected their constituencies with their God's given wealth. Every successful man, there is always a good wife whom Mrs. Ubogu has greatly contributed to the growth of her beloved husband.
Finally, Micheal Ubogu deserves not just an ordinary award but a national award from President Goodluck Jonathan with dignity. He is a man that loves the work of God with humble heart to the core. How many Nigerians like Micheal Ubogu can transfer their wealth to the poor in a slum city like Ajegunle.If every Nigerian can think positively like Ubogu then, poverty would be definitely be eradicated from the country. The mindset of Micheal Ubogu is to make the poor people smile without doubt. All wealthy Nigerians must emulate the good works of Micheal Ubogu. His legacy is unbeatable in the sands of time. Credible people like him would be given the office of the Maritime industry to handle without qualms.
BY GODDAY ODIDI. PUBLIC AFFAIRS ANALYST.08063458693. @20 ORO STREET AJEGUNLE.
Disclaimer:

"The views/contents expressed in this article are the sole responsibility of the author(s) and do not necessarily reflect those of The Nigerian Voice. The Nigerian Voice will not be responsible or liable for any inaccurate or incorrect statements contained in this article."
Articles by Godday Odidi