House Seeks Reform Of Security, Judiciary System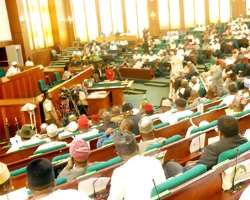 ABUJA, April 30, (THEWILL) – The House of Representatives, Tuesday, called for the reform of the country's security and justice sectors.
Chairman, House Committee on Human Rights, Hon. Beni Lar, made the call at the National Human Rights retreat organised by the committee at the Transcorp Hilton, Abuja.
The retreat had as theme, Strengthening Democratic Governance and Citizens Participation.
Lar noted that in an attempt to check the insurgency in the country, security forces had become violators of the rights of Nigerians.
"The custodians of the law have become some of its biggest violators," she said.
According to her, the greatest danger facing human rights in the country was the level of punishment being meted out to perpetrators of crime against humanity.
"Our greatest challenge towards a human rights reversal here in Nigeria starts with the application of justice to the perpetrators of unlawful killings, " she said.
Lar maintained that the ugly trend could be reversed by providing better training for security forces who should be held responsible for loss of innocent lives.
" The lack of respect for human life is the most critical and pervasive human rights abuse in Nigeria," she said.
She stressed that the House was working assiduously to ensure the promotion and protection of the rights of Nigerians.
In his remarks at the occasion, Speaker of the House, Hon.Aminu Tambuwal, who was represented by the Majority Leader of the House, Mrs Mulikat Akande- Adeola, said much needed to be done to address human rights abuse in the country.
He said that every law abiding Nigerian deserves the right to basic amenities.
Tambuwal said democratic government was created to provide an environment where the rights of the citizens would be guaranteed by the Constitution.
"Democracy is not democracy if it cannot expand the opportunities available for the people and provide a conducive environment for hardworking citizens to thrive," he said.
In a goodwill message, Minister of Women Affairs and Social Development, Hajia Zainab Maina, urged the National Assembly to fast-track the passage of bills on the promotion of the disabled persons.
She said the ministry had embarked on awareness campaign for the domestication of laws to enhance the Child's Rights Act in the country.
Present at the retreat were representatives of the Department For International Development (D FID) of te United Kingdom, Ministry of Interior, Ministry of Labour and Civil Society Organisations.
The retreat , amongst other things, was aimed at identifying and addressing high priority human rights issues.