Gunmen Surround Libyan Justice Ministry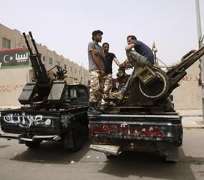 Armed groups in pick-up trucks mounted with anti-aircraft guns and rocket-launchers surrounded Libya's justice ministry Tuesday to press demands for former aides to deposed dictator Muammar Gaddafi to be barred from senior government posts.
Tensions between the government and armed militias has been rising since authorities began a campaign to dislodge the gunmen from strongholds in the capital Tripoli to tackle lawlessness menacing Libya's democratic transition since Gaddafi's demise.
Gunmen first ringed the foreign ministry on Sunday and have targeted other state buildings, aiming to paralyze government until legislation banning those who once served under Gaddafi, who was overthrown and killed in a 2011 uprising, is adopted.
The unrest spurred the General National Congress to postpone its next sitting, scheduled for Tuesday, to Sunday. A spokesman said this would give lawmakers time to consider legislation that protesters were clamoring for.
"This is definitely an attempt to impose their agenda on the political process. It's not massively out of character - we have seen this before - but it is definitely a worrying trend," said a Western diplomat in Tripoli.
The justice ministry was surrounded by gunmen occupying the roads outside the building with around 20 pickup trucks, including one with Grad missiles positioned at the gates.
The minister and his staff later left the building at the insistence of the armed group, one of the gunmen told Reuters.
The legislation demanded by militia groups who played a pivotal role in the anti-Gaddafi revolt could potentially blacklist several long-serving ministers, the congress chairman and Prime Minister Ali Zeidan himself.
WEAK GOVERNMENT
Efforts to enact such a law have been hobbled by wrangling within the legislature and many Libyans are losing patience with the national assembly's haplessness.
About 100 people gathered in Tripoli's Martyrs Square on Tuesday to voice their support for the legislation, shouting, "Oh, martyrs, your blood will not go in vain", referring to those who died fighting to topple Gaddafi.
Demonstrators calling for the legislation to be passed said the government, so weak that big swathes of the vast oil-producing desert country are beyond central authority, would fall if it did not yield to their demands.
"If they don't pass the political isolation law, we will protest here and topple the government," said Faisal Alaqsa.
Demonstrators carried wooden coffins wrapped in flags and photographs of those who had died in the 2011 revolution as a reminder of its human cost. "This government is disappointing because it has not done anything to sack people from the former regime," said Khalid Sharif, one of the coffin bearers.
A rival demonstration in support of the transitional government was initially planned for Tuesday afternoon but it was unclear whether it would go ahead.
The build-up in armed protests this week has increased fears of a security breakdown in Tripoli and prompted the German embassy to suspend some activities. Protesters have also unsuccessfully tried to storm the interior ministry.
The U.N. Support Mission in Libya said it was monitoring the siege of state institutions and urged Libyans to resolve their differences through dialogue and abide by principles of democracy and rule of law that had driven the uprising.
REUTERS