Russian Club Owner Convicted In Fire That Killed 156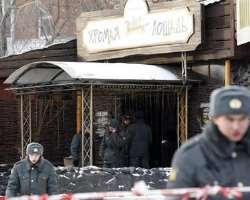 A Russian court sentenced the owner of a Russian nightclub where a fire killed 156 people to nearly 10 years in jail on Tuesday after convicting him and seven others, including organizers of a fireworks show that touched off the blaze.
The 2009 fire at the Lame Horse nightclub in the city of Perm, 1,150 km (720 miles) east of Moscow, broke out when a pyrotechnics display set fire to wicker decorations during a party. Many of the victims died of smoke inhalation and others were crushed to death as they tried to get out.
The guilty verdicts came three days after a fire at a psychiatric hospital near Moscow killed 38 people, renewing concerns about safety standards in Russia.
Club co-owner Anatoly Zak received nine years and 10 months in prison for negligence. The father-and-son organizers of the pyrotechnics display both received nearly five years each for safety violations.
The region's former chief fire inspector, Vladimir Mukhutdinov, was also charged but his punishment was reduced under Russia's statute of limitations. Other inspectors received prison terms of four and five years.
A former co-owner of the club, Konstantin Mykhrin, was extradited to Russia from Spain and was sentenced to six and a half years in prison last May.
Victims' relatives in the court room groaned when the judge said Zak deserved leniency because he was a father and that he had alerted authorities to the fire and helped rescue efforts, Interfax news agency said.
Fires killed more than 12,000 people in Russia in 2011, compared to about 3,000 in the United States, with a population more than twice the size.
REUTERS