Okupe: Jonathan Has No Hand In Grounding Of Amaechi's Aircraft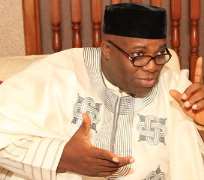 SAN FRANCISCO, April 30, (THEWILL) - The Senior Special Adviser to the President on Public Affairs, Dr. Doyin Okupe, has stated that President Goodluck Jonathan had no hand in last week's grounding of Rivers State governor, Rotimi Amaechi's aircraft in Akure, the Ondo State capital.
Referring to an online medium's news item which alleged that Okupe linked the grounding of Governor Rotimi Amechi's private jet to politics between President Goodluck Jonathan and the Rivers Governor, a statement issued on Tuesday by Okupe said there was no truth in the story.
Presenting the truth of the matter, Okupe's statement clearly noted: "The NCAA had last Saturday grounded the Governor's private jet due to what it called expired permit.
" NCAA Acting Director General, Joyce Nkemakolam, announced the grounding of the aircraft at a press conference in Lagos, clear 24 hours after Dr Okupe granted Vanguard Newspaper an interview.
"Speaking on the plane which she said was grounded for alleged non-declaration of manifest, Nkemakolam said: 'The controversial aircraft on the service of Governor Rotimi Amaechi is operating illegally in the country.
The aircraft, a bombardier BD700, Global Express with registration no N565 RS has its clearance approval expired since Tuesday, April 2nd, 2013.'"
Describing the report which was published on Nairaland, an online blog, as false, malicious, misleading and baseless, Okupe said the report mischievously used part of his remark in an interview granted Vanguard Newspaper to twist the facts and mislead the public.
According to the statement, "Vanguard had asked Dr Okupe 'What is the problem between President Jonathan and Governor Amechi of Rivers' and he replied 'it is politics. The answer is politics. I can tell politics is at play"'
Okupe maintained that nowhere did he make any comment about the grounding of Gov Amechi's aircraft by NCAA, because he would not have had an opinion on a matter which came up one day after he spoke with Vanguard.
"We must reiterate that President Jonathan is a statesman and distinguished Nigerian who would not descend so low as to mastermind such remotely or otherwise.
"Both President Jonathan and Gov Amaechi are distinguished members of the party, and we are aware that efforts are on to resolve the matter between operators of the aircraft and the NCAA.
"President Jonathan is focused on the administration's transformation agenda and would not be distracted by such baseless insinuations and conjectures by mischief makers," the statement said.