N1.4 Bn Subsidy Scam: You Must Face Trial, Court Tells Accused Persons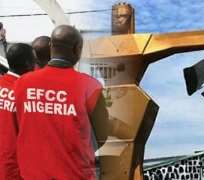 SAN FRANCISCO, April 30, (THEWILL) - The coast is now clear for the arraignment of Helyn Aninye, Chizobam Ben-Okafor and Pon-Specialized Services Limited as Justice Olusumbo Goodluck of the Federal Capital Territory High Court, Jabi, Abuja, Tuesday struck out their application asking the court to decline granting the Economic and Financial Crimes Commission leave to arraign them for fraud, forgery and conspiracy to obtain the sum of N1.413,507,951.50 (One Billion, Four Hundred and Thirteen Million, Five Hundred and Seven Thousand, Nine Hundred and Fifty One Naira and Fifty Kobo) from the Federal Government of Nigeria by false pretence as subsidy under the Petroleum Support Fund.
Justice Goodluck, in her ruling, affirmed that "at this stage there is no requirement to consider facts before the court; what is needed is to determine if a prima facie case against the accused persons is established."
"I am of the view that the proof of evidence suggests elements of forgery and obtaining by false pretences and I therefore overrule the objection of the accused persons and hereby grant leave to prosecution to prefer charge against them". Goodluck stated.
The accused persons are said to have "on or about 3rd day of March, 2011 at Abuja within the Jurisdiction of the High Court of the Federal Capital Territory, Abuja with intent to defraud, conspired to obtain money under false pretence from the Federal Government of Nigeria under the Petroleum Support Fund".
The offence, according to the charge sheet, is contrary to Section 8(a) and punishable under Section 1 (3) of the Advance Fee Fraud and Other Related Offences Act No 14 of 2006.
They were to be arraigned on November 26, 2012 but this was scuttled as their counsel, Olisa Agbakoba, SAN challenged the application of the prosecution seeking the leave of the court to prefer charges against the accused persons. He argued that the proof of evidence did not disclose any offence against the suspects and urged the court to refuse the application.
But, prosecution counsel, Steve Odiase told the court that the proof of evidence supports the 18-count information.
The case has been adjourned to May 30, 2013 for arraignment and June 11 and 12, 2013 for trial.