IS OIL A CURSE TO NIGERIA?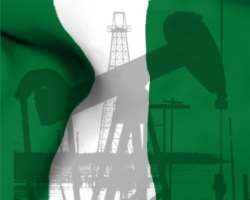 Nigeria has become a reference point to foreign commentators who want to advise new-oil-nations on how not to spend their petro-dollars! Even if President Obama did not mention Nigeria in his 2009 Accra Speech where he warned Ghanaians not consider any bamboozling idea that oil would be a replacement for their cocoa, i'm quite sure that, the country he had in mind before offering such advise was Nigeria!
Before the discovery of oil in Oloibiri in 1956, Agriculture used to be our pride! With Cocoa in the West, Palm Oil in the East, and groundnut pyramid in the North, Nigeria was better off. There was no youth unemployment, there was no Boko Haram, there was no MEND, there was no kidnapping, banditry was minimal and there was no baby-factory in any part of the country where human beings are bought and sold like live stock. If you read the history books, you will say: "What Europe did to Nigeria", but, if you read our newspapers, what would you say? "Is it what Nigerians are doing to Nigerians"? Please forgive me, if i'm wrong!
At the formative stage of the Department of Petroleum Resources (DPR), its mission statement was, "To serve as the watchdog for the development of Nigeria's oil and gas resources by employing modern tools and techniques to direct, influence and achieve the optimum exploration, conversion and utilization of petroleum and its derivatives for the maximum benefit to Nigerians while ensuring minimum damage to the environment". While the DPR was watching, licensing, permitting, monitoring of oil and gas operations, collecting royalties and other statutory fees for the government, setting technical safety and environmental standards and guidelines etc, the Petroleum Technology Development Funds (PTDF) was established to train Nigerians with the needed skills to drive the oil and gas sector. It is because of this fact, that a legal teeth was added to the oil and gas industry in April 2010, when the Nigerian Oil and Gas Industry Local Content Development Act was signed in to law by President Goodluck Jonathan.
This act was intended to return local jobs to local people by giving opportunities for employment and procurement to Nigerians! But how effective have all these laws been? Can we say Nigerians are competing favorably with their foreign counterparts in the oil and gas sector? Are our tertiary Institutions producing the highly needed and skillful graduates for the sector or theoretically-certificated graduates for the sector? The fact is that, nobody would like to employ a certificated-novice all in the name of abiding by our laws. "Protectionism" in the oil and gas sector should not encourage mental laxity; rather, it should subject students to rigorous practical and academic work and studies. If I may ask, is the practice of PTDF sending our graduates for training in foreign land not an indictment on our local institutions?
However, before Nigeria joined the Organization of Petroleum Exporting Countries (OPEC) in 1971 as the 11th member of the organization, crude oil was selling between 45 United States Cents and 65 Cents, but, in 1972, our Bonny Light Crude increased to$3.22 dollars, while the Arab Light Crude was selling for $2.48 dollars. This shows that our brand of crude fetches more money than the Arab Light Crude, but, can we compare the level of their development to ours? Between 1971 and 1980, our Bonny Light Crude moved from about 65 Cents to $38.82 dollars per barrel, while the percentage of our exports moved from 73.7 percent in 1971 to 96.1 percent in 1980. But has all these affected our lives positively? The worst of it all was in June/July 2008, when the price of oil in the international market reached an all time high of $147 dollars per barrel.
Petro-dollar is known to be lifting people out of poverty, building infrastructure and turning deserts to commercial and tourists destinations for countries like the United Arab Emirates (UAE), but ours is been shared every month. What is the essence of sharing the Excess Crude Account (ECA) every month in Nigeria, whereas our infrastructures are dilapidated, our power supply is epileptic, while some of our hospitals are mere consulting clinics? To tackle some of the infrastructural challenges, Jonathan's administration introduced the National Sovereign Wealth Funds (NSWF) to take care of them, but our elected governors are opposing it because, the money they gather in Abuja to share every month will now be channeled to the Sovereign Wealth Fund, where it will be used to construct new roads and rehabilitate old ones, build more power stations, facelift our airports etc, but state governors are opposing it without providing viable alternatives. Is this leadership?
With more African countries discovering and exploring crude oil, the time has come for Nigeria to move from depending on natural resources to building a knowledge based economy, while massively investing in infrastructure. This can be done by carrying out a surgical operation on the current structures in our tertiary institutions, because, the structure as currently constituted cannot take us to our dream destination. I know this view may not be popular, but, it is a hard choice left for us, because, making Nigeria the hub of Africa's financial services requires knowledge. Therefore, we should start making hay now that the sun shines, so as to turn oil into blessing and not a curse!
Written By Comrade Edwin Ekene
[email protected]

Disclaimer:

"The views/contents expressed in this article are the sole responsibility of the author(s) and do not necessarily reflect those of The Nigerian Voice. The Nigerian Voice will not be responsible or liable for any inaccurate or incorrect statements contained in this article."
Articles by thewillnigeria.com