Atiku In Geneva, Decries Militarization Of Democracy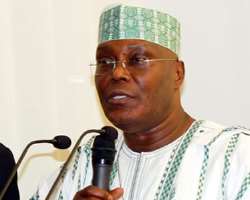 FORMER VICE PRESIDENT ATIKU ABUBAKAR
…Calls For International Support To Monitor Nigeria's Political Process

SAN FRANCISCO, April 29, (THEWILL) - Former Vice President Atiku Abubakar has said that despite the end of military rule more than a decade ago and the advent of constitutional democracy, the culture of political intolerance and impunity still pervades the country.

A statement from the former Vice President's media office said he was speaking in Switzerland as a Guest Speaker of the Geneva School of Diplomacy and International Relations on Monday, regretted that in Nigeria and other parts of Africa opposition members are treated as enemies of the state.

In his paper entitled "Deepening Democracy in Nigeria: Implications for Africa," Atiku Abubakar said as a result of such lip service to democratic principles, "disregard for rules and regulations and the utter impunity with which they are committed," has led to what he called "the militarization of democracy."

According to him, many retired military chiefs, who came into power as politicians entered the democratic arena without being able to shed their military mindsets, thereby exacerbating the culture of intolerance and entrenching impunity, which characterises today's political reality in Nigeria.

The former Vice President, however, admitted that despite these democratic challenges, the freedom of speech, of association, of the right to organise politically and the liberty to criticise the government were restored with the return of democratic rule.

Atiku also acknowledged that with the new democratic order in Nigeria, the courts in the country are more relatively independent in addition to freedom of the press that came with it.

However, the former Vice President regretted that these democratic gains are being threatened by the persistent perception of political opposition as an enemy that has to be crushed "rather than patriots who happen to disagree simply because they hold different political views."

He noted that legitimate disagreement with attempt to extend the tenure of sitting leaders beyond their constitutional term limits had met with the harassment and humiliation of those dissented against such moves.

Atiku also lamented that members of the ruling parties that opposed lack of internal democracy or abuse of power by those occupying executive political offices were either repressed or harassed, thereby undermining the institutions of democracy.

Despite these negative features of Nigeria's democratic order, the former Vice President said the performance of the economy, particularly in the first eight years of the democratic experiment, has provided a flipside to these unpleasant realities.

According to him, the new democratic order in Nigeria in the first eight years, has created "a stable exchange and interest rates in addition to reducing the rate of inflation, reduction of public debts and increase in foreign reserve."

He also praised the privatisation of inefficient and wasteful state enterprises and what he called "an overall improvement in the business environment, which enhanced the potential for rewarding foreign investors."

The former Vice President, however, told his audience in Geneva that political leaders in Nigeria were "unable to significantly translate these macro-economic gains into major micro-economic improvements, largely because of the politics of constitutional amendments and rising level of corruption which distracted our government from its economic goals."

Atiku also painted a bleak picture of rising poverty in Nigeria with "70 percent of Nigerians living below the poverty line and maternal mortality accelerating at 840 deaths per 100,000 live births.

According to him, Nigeria ranks the 9th worst in the world in 2008 and 10th worst in 2010 in terms of maternal mortality. And with a death rate of 74 per 1,000 live births, he said, Nigeria ranks the 16th worst in world's infant mortality.

The Turakin Adamawa said life expectancy in Nigeria is 50 years compared to 82 years in Switzerland, adding that preventable diseases such as polio and measles are still ravaging the country.

He maintained that there is no justification why an oil-rich country like Nigeria should maintain these levels of poverty, maternal and infant mortalities.

Atiku argued that the rate of Nigeria's economic growth of 6.5 percent is far below what is required "quickly lift millions of Nigerians out of poverty once and for all."

These experiences, he said, are also common to other African countries, adding that Nigeria's story couldn't be separated from the continent's experience.

On the negative perception of Nigerians as crooks by foreigners, the former Vice President reminded his audience that Nigerians are generally hardworking and honest and that the criminal activities of a few should not be allowed to affect the country at large.

Atiku, however, admitted that poor leadership was mainly to blame for the problems he had highlighted.

He called on friends of Nigeria abroad including Switzerland to help the country in terms of foreign direct investment to reinvigorate the economy in other to revamp national infrastructure, education, health and other social services by reducing unemployment and improving the incomes of the citizens. He noted that unemployment breeds criminals, including terrorists.

On democracy, Atiku called on Western democratic nations to play more active and deeper role in helping the country with credible elections. He said Switzerland and other Western nations should go beyond economic investments by exerting political pressure on local leaders to "open up the political space."

According to him, observers should follow up all the processes needed to produce credible elections instead of merely monitoring the casting of votes on polling days and insisting on the neutrality of the Independent National Electoral Commission (INEC) and security agents.

As Nigeria prepares for another election in 2015, the former Vice President appealed to Western leaders to demonstrate more than a passing interest in how the elections are conducted from voting stage, collation, counting and release of results eliminate the leakages that lead to fraud.