France, Keen To Boost Military Strength, Avoids Defense Cuts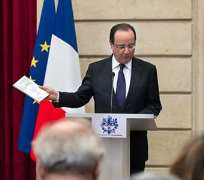 France will keep its defense budget at the same level for the next six years after the government decided that proposed cuts would hamper its ability to mount military operations such as its intervention in Mali.
The freeze will still lead to the loss of 34,000 jobs in the defense ministry at a time of growing unemployment in France, according to a strategic review announced on Monday.
The decision also means the Socialist government will need to look elsewhere to raise funds as it tries to reduce state spending by 60 billion euros over its five-year term and meet deficit targets.
"France wants to maintain its ability to react alone. This recent period has proved that there is a definite lack in the army in terms of equipment," President Francois Hollande said.
Hollande had come under pressure from his own left-wing lawmakers and armed forces officials who feared that any cuts ordered by the finance ministry would harm France's military capability.
The military won plaudits for its intervention in Mali in January which drove back Islamist rebels. But the operation showed its limitations in mid-air refueling, troop transportation and intelligence gathering.
The review, which outlines defense priorities from 2014 to 2019, comes at a sensitive time for France, a permanent member of the U.N. Security Council and a nuclear power.
The document seeks to overhaul the armed forces to create a more mobile army and to boost intelligence resources and special forces. It also makes cyber security a priority.
Hollande ordered the review to take recent revolutions in the Arab world into account as well as changes to France's historical ties in Africa, and a shift in the United States' focus away from Europe towards Asia.
The defense ministry has borne the brunt of cuts in recent years, seeing its annual budget decline from about 2.5 percent of economic output since the end of the Cold War.
The White Paper set an overall budget for the period of 179.2 billion euros ($233.4 billion). It kept 2014 spending at 31.4 billion euros, equivalent to 1.5 percent of GDP.
It also factored in job cuts from the 228,000 personnel now.
"In total, from 2014 to 2019, the defense ministry will have to reduce its staff by about 34,000 people," the document said.
INDUSTRY PROTECTED
Paris will push for a more integrated European Union defense program, the review said, and will co-operate with Britain on a new anti-ship missile.
France's own defense industry had been braced for spending cuts that many feared would cause job losses and slash investment in research and development.
Contractors including Thales and Safran wrote to Hollande in March warning him of the risk of cutting back on defense spending when the number of people out of work is rising.
A list of priorities spares the chief procurement programs from being axed.
France will renew its ageing fleet of Boeing refueling tankers with a program to buy converted Airbus A330 passenger jets from 2014. Its targeted refueling fleet of 12 aircraft is lower than previous estimates of 14 planes.
The White Paper also backs the Airbus A400M military airlifter, a seven-nation project plagued by cost overruns and delays. France aims to have a fleet of 50 tactical airlifters.
REUTERS