Akpabio Dismisses Senator Etok's Allegations As Spurious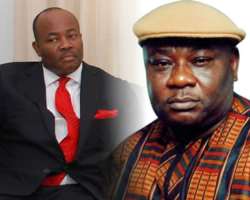 GOVERNOR GODSWILL AKPABIO (L), SENATOR ALOYSIUS ETOK OF IKOT EKPENE
SAN FRANCISCO, April 28, (THEWILL) - The Akwa Ibom State Government has described as unfortunate statements credited to Senator Aloysius Etok of Ikot Ekpene Senatorial District where he made "spurious allegations that the State Governor, Chief Godswill Akpabio was after his life."
A release signed by the State commissioner for Information and Communications, Mr. Aniekan Umanah dismissed such allegations as paranoid, deceitful, baseless and mere hallucinations that serves no purpose whatsoever.
The Commissioner maintained that Governor Akpabio has no problem with Senator Etok and would not join issues with anyone on conjectures credited to the Senator which the Governor, worked hard with the people to produce.
According to the release by Mr. Umanah, "His Excellency, Governor Akpabio is a God fearing and peace loving man, and has never and will never contemplate evil against anyone let alone, his brother and friend, Senator Aloysius Etok".
The release described the allegation of mobilizing Local Government Chairmen and members of the State House of Assembly against Sen. Etok as a figment of the imagination of the authors of such demented scripts because Governor Akpabio was not in the country at the time the alleged actions were taken neither was he party to those as he was attending the commonwealth Bar Association Conference in Cape Town, South Africa.
On the allegation of the Governor "resurrecting a hit squad to fight Sen. Etok", the commissioner said, "for the avoidance of doubt, Governor Akpabio has no hit squad and has never been after the life of any citizen of the state", rather he engages the policy of inclusiveness to ensure citizens and stakeholders have a say in the affairs of the State.
Contrary to media reports on strained relationship between the Governor and Senator Etok, Umanah said the duo are enjoying very robust relationship and are constantly in touch with each other on matters of concern.
On the rumples over the 2015 Senatorial elections, the Government Spokesman said the Governor Akpabio of Akwa Ibom State has high regard for the Senate of the Federal Republic of Nigeria and indeed the National Assembly and has always shown this publicly. He further stressed that Akpabio is only an aspirant to the Senate in 2015 and therefore cannot disrespect the office of a Senator. On the alleged Third term bid of Senator Aloysius Etok, the Commissioner said Etok has every right as guaranteed by the constitution to re-contest election to the Senate in 2015 if he so wishes.
The state Information boss cautioned those bent on tarnishing the hard earned image of the Governor to desist from such acts and advised politicians from the state not to jump into the fray of the Nigerian Governors forum politics, stressing that NGF as a body will settle her issues.
Mr. Umanah assured the people of the state and Nigerians that Governor Akpabio will not be pulled into the tides of distraction making wave in political circles, but would rather concentrate on his Uncommon Transformation programme which has made Akwa Ibom a reference point in the Country's development history.