Baga: Many Displaced Residents Still Held Up In Surrounding Bushes, Says NEMA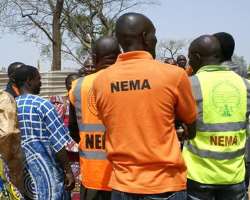 SAN FRANCISCO, April 28, (THEWILL) –Indications emerged yesterday that some of the residents of Baga may still be held up in the surrounding bushes.
The National Emergency Management Agency (NEMA) has stated that many of the displaced residents of Baga were still being held up in the surrounding bushes.
A statement issued on Sunday by the North-east zonal office Information Officer of NEMA, Mr. Abdulkareem Ibrahim, said when the agency arrived the town, many of the residents were found displaced in the surrounding bushes.
"As the President, Dr. Goodluck Jonathan, directed for the immediate relief intervention and in line with the mandates of the Agency, the Director General of NEMA, Muhammad Sani Sidi, had dispatched a team of officers with the relief and medical items to affected persons in the area.
"However, on arrival it was discovered that most of the displaced persons were scattered in the bush while others were taking refuge in the homes of their relations in the neighbouring communities," the statement said.
It also noted that normalcy is beginning to return to the town as humanitarian workers led by NEMA have distributed relief items to displaced persons affected by the military operation in which over 200 residents were killed and 2,000 houses destroyed.
The NEMA spokesperson said the Director, Search and Rescue, Air Commodore Charles Otegbade, who led the team of rescue and relief officers to Baga town believes that the major task now is to ensure that those still hiding in the bush are brought to the relief camps on the ground .
He said immediately a rapid assessment was conducted in collaboration with the Red Cross and other voluntary organisations, relief items were distributed while those with minor injuries were treated at a temporary camp clinic opened in the area.
Ibrahim listed the communities affected by the carnage to include Bayan Bulabulin, Anguwa Gajagaja, Aliya, Musarin Baga, Kasuwan Baga and Layin Yannoyo.
He said the items presented were meant to assist in the rehabilitation of the affected persons and appealed to the people to remain calm .
He disclosed that the items which include medical, sanitary , food, household and tents were distributed by NEMA officials together with other humanitarian workers including officials of the Borno State and Kukawa Local Government