North Korea Says Detained American Tourist To Face Trial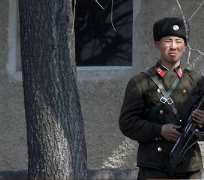 North Korea said on Saturday that a Korean-American tourist, jailed by the reclusive state since late last year, will face trial for "committing crimes" against the North.
The move comes amid a diplomatic standoff between North Korea and the United States, and as Pyongyang has threatened to attack U.S. military bases in the Pacific and the South.
A number of U.S. citizens of Korean descent have run into trouble in North Korea over the years, and Pyongyang has tried to use their detention to extract visits by high-profile American figures, most notably former President Bill Clinton.
In the latest case, Kenneth Bae, 44, has been held by police since arriving in the northeastern city of Rajin on November 3. He was among a group of five tourists.
"In the process of investigation he admitted that he committed crimes aimed to topple the DPRK with hostility toward it," KCNA state media reported, using North Korea's official title of the Democratic People's Republic of Korea.
"His crimes were proved by evidence," it said, adding he would soon be taken to the Supreme Court "to face judgment". It did not provide further details.
In Washington, State Department spokeswoman Jen Psaki said the United States was aware of reports that an American citizen would face trial in North Korea. She said representatives of the Embassy of Sweden, which acts as the protecting power for U.S. citizens in North Korea, visited Bae on Friday.
South Korean rights workers said that Pyongyang may have taken issue with some of his photographs, including those of homeless North Korean children.
A South Korean newspaper published by an evangelical family said he may have been carrying footage of North Korea executing defectors and dissidents. It was impossible to verify this.
According to North Korean law, the punishment for hostile acts against the state is five to 10 years of hard labor.
Clinton flew to Pyongyang in 2009 and met then-leader Kim Jong-il before securing the release of two American media workers who had been charged with entering the country illegally.
Former U.N. ambassador Bill Richardson, who has made numerous trips to North Korea, some to seek the release of detained Americans, said he hoped the trial might help lead to Bae's release.
Richardson delivered a letter regarding Bae to officials during a trip to North Korea in January, although he was unable to meet him.
"Hopefully the conclusion of the legal process for Kenneth Bae will set the stage for a release on humanitarian grounds," Richardson told Reuters in an email.
But he said Bae "should not become a pawn in the current American-North Korean friction."
Tensions between North Korea and South Korea and its ally the United States have spiraled in recent weeks since the United Nations tightened sanctions after North Korea's third nuclear weapon test in February.
The toughening of those sanctions led to Pyongyang threatening nuclear strikes against South Korea and the United States.
North Korea has a long record of making threats to secure concessions from the United States and South Korea, only to repeat the process later. Both the United States and the South have said in recent days that the cycle must cease.
On Friday, Pyongyang rejected a call for formal talks to end a standoff that forced operations at a joint industrial complex shared by the North and South to be halted.
South Korea in turn said it would pull out all its remaining workers from the Kaesong factory complex, which is just inside North Korea and is one of the North's few sources of ready cash.
Of the 175 remaining South Korean workers, 126 workers left the factory zone on Saturday. The rest are scheduled to return on Monday.
A representative of the South Korean firms at the complex urged the government to hold inter-Korean talks and to authorize their visit to North Korea on Tuesday, South Korea's news agency Yonhap said.
REUTERS