JTF Kills Top Boko Haram Commander In Maiduguri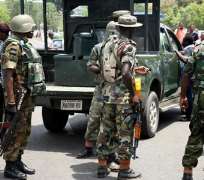 SAN FRANCISCO, April 27, (THEWILL) – A top commander of the Boko Haram sect has been killed in Maiduguri, the Borno State capital.
The commander, Mohammed Chad, was killed in the early hours of Friday by the military Joint Task Force (JTF) in Borno State, Operation Restore Order, during a joint special operation with the men of the State Security Services (DSS).
Chad, who had been on the wanted list of the JTF, was said to have been killed in the Ruwan Zafi ward of the town at about 3am on Friday.
The late Chad was said to be a successor to one Ba'ana Assalafi, a Boko Haram commander that was killed during a shoot out with security agencies in Sokoto last March
Military sources in the state said Chad actually masterminded the multiple attacks and killings at Sanda Kyarimi Secondary School, Maiduguri where a teacher was shot dead and three female students were injured on March 18.
The JTF spokesman in the state, Lt. Col Sagir Musa, confirmed Chad's killing in a statement made available to newsmen on Saturday.
"This special operation led to the death of a notorious Boko Haram terrorist, aka Mohammed Chad, an indigene of Marte, Borno State that has been on the wanted list of the JTF. Intelligence indicated that he was involved in the planning and execution of many terror attacks in and outside Borno State.
"The killed suspected commander, is also believed to be the successor to Ba'ana Assalafi, a key Boko Haram commander that lost his life during a shoot out with security agencies in Sokoto," Sagir said in the statement.