'PHCCIMA PRESIDENT A BLESSING SENT BY GOD TO UPLIFT EGI PEOPLE'~ CHF ONYIRI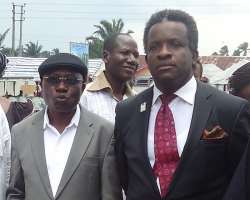 (Left) President General Egi Peoples Assembly, Chief Oris Onyiri and PHCCIMA President, Emeka Unachukwu pose for pix at the event.
President of Port Harcourt Chamber of Commerce, Industry, Mines and Agriculture, PHCCIMA, Engr. Emeka Unachukwu has been described as a blessing sent by God to uplift the people of Egi community in Obite ONELGA.
President of Egi Peoples' Assembly, Chief Oris Onyiri made this declaration during the official opening of the 1st Egi city Trade and Investment fair sponsored by Total E&P, PHCCIMA with other key supporters in collaboration with the SME-Development Network centre was held at the Obite Civic centre.
Chief Onyiri said the lofty ideas and commitment of the PHCCIMA president has been quite instrumental to the level of progress witnessed in the community, lately, adding that his sincere determination to help develop Egi has been phenomenal and out of the ordinary to say the least.
"We are proud to be associated with Engr. Emeka Unachukwu, a very special and dynamic friend of Egi people, who has not only assisted in engineering progress but has assisted tremendously in mentoring our strategy team to what it is today", he said.
The EPA President expressed gratitude to PHCCIMA for partnering with the SME Development Network, EPA and other institutions in Egi to make the trade and investment fair a reality.
He described as defining moments in Egi land the events of the trade and investment fair saying it is a demonstration of the new Egi city vision founded on peace, love enterprise and opportunities.
Chief Onyiri explained that Egi is a city envisioned by the people based on the land and resources endowed by God and observed that this was responsible why investors, entrepreneurs, tourists, development partners as well as men and women of goodwill have found the city as the new destination brand.
The Egi Peoples Assembly president lauded Total E&P, RSSDA, NDDC, ONELGA, UNITAR, the Federal Government of Nigeria, PHCCIMA among others for the immense support in ensuring that Egi realizes its socio economic potentials through this fair.