PHCCIMA Trade Fair Fashion Show Winner For Paris Fair …Expresses Gratitude to PHCCIMA President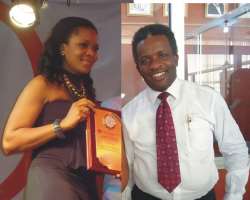 Linda Igwe-Ogbonnaya poses with her trophy with PHCCIMA President, Unachukwu
The Port Harcourt Chamber of Commerce Industry, Mines and Agriculture, PHCCIMA as part of its effort to encourage upcoming talents in the society and offer them international boost that will lead them to stardom has said it will sponsor, Mrs Linda Igwe-Ogbonnaya, winner of the 2012 Port Harcourt International trade fair Fashion show to the Paris Fashion Exhibition.
The President of PHCCIMA, Engr. Exhibition Unachikwu stated this while playing host to Igwe-Ogbonnaya who goes by the brand name ADY by Linda at the PHCCIMA office during the monthly council meeting.
The president asserted that the Fashion show added verve to the trade fair and said the objective of the fashion show which was co-sponsored by Wave Event Global an event management outfit, was to engage the interest of youths in fashion.
Continuing he said the show also seeks to provide a platform for enhancing the quest for brand exposure and entrepreneurship for up coming fashion designers..
In an interview with newsmen, the PHCCIMA fashion show winner, Linda Igwe-Ogbonnaya commended PHCCIMA President for introducing the show and availing her of the opportunity to express her innate talent.
The star who also won industrial sewing equipment along with the sponsorship to the Ehical fashion show in Paris said she will remain competitive in other fashion shows to achieve her full potentials.
The Imo-born rising fashion designer married to Ebonyi State urged other rising talents to believe in themselves in other to attain their fullest potentials.
Ayibatoaye Joe Pagatanga with the brand name JOE PAGATANGA emerged second at the fashion show, winning a chance to participate in the Nigerian fashion week and industrial sewing equipment while 83 & 80s finished third winning industrial sewing equipment and a chance to contest in the Nigerian fashion show.