Oil Deals: Presidency Disowns Women Group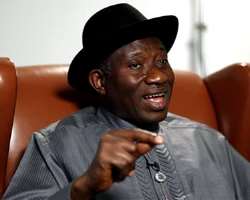 PRESIDENT GOODLUCK JONATHAN
SAN FRANCISCO, April 25, (THEWILL) – The Presidency, Thursday, debunked reports in some social media platforms to the effect that a group, Women in Oil, is claiming that President Goodluck Jonathan has given approval for the sale of forms to women, to buy shares and invest in oil blocks and then collect the profit of their investments in 2015.
Describing the claim as dubious, fraudulent and an attempt to smear the image of President Jonathan, the Special Adviser to the President on Media and Publicity, Dr. Reuben Abati, said in a statement that : "There are probably a thousand of one of such scams because that is precisely what it is. It is a scam and they may be lessons put there like this particular case, using the President's name in vain, duping people and claiming that they have the President's approval."
Warning Nigerians not to take any interest in any such claim that drops the name of the president, the statement said "the President has not asked anybody to go about selling forms and collecting money for people to make certain investments."
According to the statement, "It is infact very disturbing that certain persons will not see through such scams for what they are and refused to be hoodwinked by persons who are purely opportunistic and who are engaged in purely criminal endeavours.
" I am using this opportunity to draw the attention of the general public to the fact that there indeed a lot of persons out there who are just plain fraudsters. The idea is that when anybody is approached using the President's name saying that they are selling certain forms people should beware."
Abati maintained that the Presidency does not sell forms and it does not solicit for people to come and invest in anything and does not ask anyone to come and pay money into certain bank accounts.