Another Boko Haram Attack In Borno Claims Four Policemen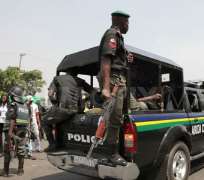 SAN FRANCISCO, April 25, (THEWILL) – As controversy still surrounds the weekend killings in Baga, a fishing border town in Borno State, gunmen suspected to be members of the Boko Haram struck again, Thursday, in Bama, another border town in the state, killing four policemen and setting several houses ablaze.
Bama, a historic town of the Kanuris, which shares border with Cameroon, is 75kilometres from Maiduguri, the Borno State capital.
Residents of the town as well as security sources in the area disclosed that hundreds of residents of Kasubula area of Bama, where the incident took place, had to flee their homes as they scamper for safety, finding refuge in the nearby bush, in the midst of the confusion caused by the attack.
The gunmen were said to have attempted to kill the Divisional Police Officer (DPO) of the town who was lucky to escape with bullet wounds.
Several houses around the Divisional Police headquarters in the town were said to have been torched in ensuing shoot-out between the gunmen and security forces.
Narrating the ordeal of the residents, a civil servant in Maiduguri, Muhammed Ali, whose family live in Bama said he received a distress call from his wife that their house had been torched.
"My wife just called to tell me that they were assisted to escape by jumping the fence when my house was set on fire, and presently she and my two daughters are with others in the bush," he said.
A top security source who spoke on condition of anonymity confirmed the killing of the two policemen declined comments on possible civilian casualties.The Police Public Relations Officer, Gideon Jubrin, also confirmed the attack on the town by the gunmen but was silent on the number of casualties.